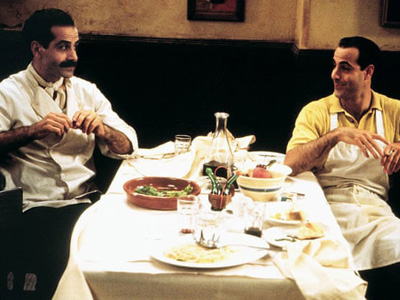 This is the third part in a series discussing the arts as portrayed in films. (We previously explored Art Goes to the Movies and Writers on Film.) This time we're going to take a look at 13 (plus a few honorable mentions) movies that involve the culinary arts and are likely to be enjoyed by those of you who appreciate good food and the many facets of its preparation. All the films mentioned are available through online subscriber services (Netflix, Amazon Prime, etc.) but many are also free to Hamden Public Library cardholders through Kanopy and Hoopla. Links are provided for these films.
Heartburn (1986) may have been one of the first foodie films. It grew out of a book written by a true foodie, Nora Ephron. in which she interspersed recipes for the foods she prepared during the various emotional stages of her relationship with and marriage to Washington Post reporter Carl Bernstein. However, although Ephron wrote the screenplay, the movie starring Meryl Streep and Jack Nicholson relegated the food to the background, opting instead to focus on the tragicomedy of the roller coaster relationship. Like Heartburn, 2003's Under the Tuscan Sun, starring Diane Lane as writer Frances Mayes, is based on a book of the same name in which recipes figured significantly. Director Audrey Wells admits feeling intimidated by the idea of trying to live up to the portrayal of food in previous popular films, so she chose to downplay it in some instances where it had great importance in the book. Instead, she chose two major scenes in which she allowed food to take over expressing the emotions of the characters at that point in the narrative.
Taken as a group, most foodie movies seem to fall into two categories. First, there are those that use food and its preparation as a backdrop for the drama, comedy and/or romance that is the film's main focus. Typically, this is likely to use a restaurant as the setting–most often the workplace for at least a portion of the main characters. One of the earliest of these is Big Night (1997) starring, written and directed by Stanley Tucci (with hair!) and a pre-Monk Tony Shaloub as brothers struggling to make their Italian restaurant a success in New Jersey. Also in the cast are Minnie Driver in one of her first feature films and be sure to watch for a young Allison Janey who credits Tucci with launching her big screen career with this film.
In 2001, a German comedy called Mostly Martha portrayed a female chef's contentious relationship with her new sous-chef that eventually blossoms into romance, winning high praise at several international film festivals. In 2007 it was re-made in the U.S. as No Reservations starring Catherine Zeta-Jones as the chef with Aaron Eckhart as her eventual partner in food and love.
In both Ang Lee's 1994 Chinese Eat, Drink, Man, Woman and it's 2001 American remake,  Tortilla Soup, the food prepared by a retired chef who is also the father of three grown daughters is intermingled with their family story. Burnt, starring Bradley Cooper as a 3-star Michelin chef trying to make a comeback once again uses the restaurant setting as a setting for drama, but by 2015 when it was released, the movie-going public was quite familiar with the idea of temperamental celebrity chefs and, therefore, able to accommodate the idea of a protagonist with these qualities that might still be sympathetic. This film not only reunites Cooper with his American Sniper co-star, Sienna Miller, but gives him a chance to showcase his own culinary skills gained working in restaurant kitchens in his pre-stardom days and honed during his stint on the TV series, Kitchen Confidential a decade earlier.
Waitress (2007) straddles the line between food as backdrop and food as subject. Like Heartburn and Under the Tuscan Sun, this film (which found its way to Broadway as a musical in 2015) is centered on the life of a woman who expresses herself through food–in this case pies. As we move through Jenna Hunterson (Keri Russell)'s life situations, we're treated to mouth-watering visualizations of the pie recipes she is creating in response to her emotional state. Similarly, the much-lauded and awarded Sideways (2005) tracks not only a road trip of long-time buddies, Jack and Miles, but delves into the glory and follies to be found in wine and wine country with Miles (Connecticut's own Paul Giamatti) often waxing lyrical about the qualities of his beloved Pinot Noir, which, upon close inspection may offer a key to his own personality.
Easing into movies (and their main characters) that put food and its preparation front and center, we have Toast (2010), the coming-of-age story of British food critic Nigel Slater based on his memoir subtitled The Story of a Boy's Hunger. Growing up with a mother who did not trust fresh food which relegated the family meals to those concocted from canned ingredients, Nigel prefers toast to other manifestations of home cooking in the Slater household but yearns for better fare–fueling his eventual immersion in the culinary arts.
Jon Favreau is writer, director and star of Chef (2014), the cautionary tale of a restaurant chef whose reputation is ruined by an inopportune video that rapidly makes its way across social media platforms and costs him his prestigious job. However, his love of food and feeding others quickly takes him into the food truck business where he creates a sensation that social media promotes coast to coast. A raven-haired Scarlett Johansson, Dustin Hoffman and Oliver Platt, whose older brother, Adam, is a New York restaurant critic, comprise a stunning supporting cast for this small-budget film. Food preparation was filmed separately from the dramatic scenes to afford optimal presentation.
Of course, no list of foodie movies can overlook Julie and Julia (2009) which is loosely based on Julia Child's My Life in France and Julie Powell's 2002 blog, The Julie/Julia Project is directed by Heartburn's Nora Ephron. Meryl Streep (as Julia Child) insisted on having Stanley Tucci play Paul Child in this film that was released 23 years after her appearance in Heartburn and 12 years after his in Big Night. Not only does the now-bald Tucci bear a striking resemblance to the real Paul, but he is serious about food with several cookbooks to his credit. In this film we have not one but two food lovers at work in their kitchens determinedly tackling French cuisine with varying levels of success provoking laughter and tears from both women with admirable support from their spouses. Powell is warmly played by Amy Adams. Truly enjoyable.
East Side Sushi (2014) ups the ante by adding a competition to the plot. Fruit vendor and single mom Juana (Diana Elizabeth Torres) takes a job at a sushi restaurant where she quickly falls under the spell of this popular and versatile Japanese staple. Soon she's in her own kitchen trying to win over her father and daughter to this exotic cuisine by adding familiar ingredients like chilies and frijoles. The resulting fusion proves to be tempting enough that, despite her gender and heritage, she becomes a finalist in a TV sushi chef contest. If you find this foray into the world of sushi intriguing, you may also enjoy the documentary, Jiro Dreams of Sushi (2012).
And now we come to the topic that transcends–at least on film–mere food: chocolate. The sublime substance derived from the cacao bean and thought to have been used in beverage preparation as long as 19 centuries B.C.E., is the edible that serves as a catalyst for human action and reaction in Chocolat (2000). The film, based on Joanne Harris' bestselling 1999 novel, is directed by Lasse Hallstrom with an all-star cast that includes Juliette Bujold, Johnny Depp, Dame Judi Dench, Lena Olin (Mrs. Hallstrom), Carrie Ann Moss and Alfred Molina. Vianne Rocher (Bujold) comes to a sleepy French village to open a chocolaterie and sets about bringing new life to its inhabitants through her wares. Like Water For Chocolate, Mexico's 1992 adaptation of the Laura Esquivel's novel (the subtitle of which is A Novel in Monthly Installments with Recipes, Romances and Home Remedies) takes the relationship between humans and food to the level of magical realism portraying the book's fantastical imaginings of food's powers on the big screen. It won 26 international awards and received 14 additional nominations.
Films included:
Heartburn
Under the Tuscan Sun
Big Night
Mostly Martha/No Reservations
Eat, Drink, Man, Woman/Totilla Soup
Burnt
Waitress
Sideways
Toast
Chef
East Side Sushi/Jiro Dreams of Sushi
Chocolat
Like Water for Chocolate