Thornton Wilder (1897-1975)
Winner of Three Pulitzer Prizes, including for "Our Town", the most performed play in American theater, lived in Hamden, CT.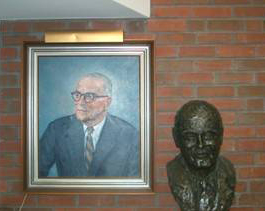 Hamden keeps the memory and spirit of Thornton Wilder alive in:
– Thornton Wilder Hall in the Miller Memorial Central Library and Cultural Complex, where "Our Town" and many other plays, musicals, and cultural events take place year-round.
– The Thornton Wilder Study at the Miller Memorial Central Library, where furniture and memorabilia from his home on Deepwood Drive are located.
– The Annual Thornton Wilder Writing Competition sponsored by the Friends of the Hamden Library for area high school students.
You can see all of these Wilder-related items and places at the Miller Library complex at 2901 Dixwell Avenue, Hamden, CT.