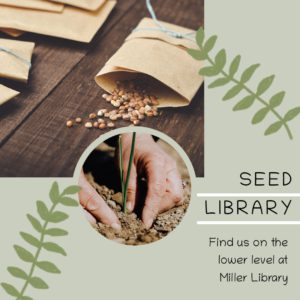 Tucked in behind the Mystery books on the Lower Level of Miller Library is our Seed Library, stocked between February and June with an assortment of vegetable, flower, and herb seeds. This year, additional donations have allowed us to add several types of heirloom seeds and varieties of vegetables and herbs of interest from around the world.
The Seed Library is self-service. Please keep the following in mind:
– You may select up to 5 types of seeds from the packets that are on display.
– Only take as much seed as you need. We have provided glassine envelopes and labels for you.
– Read the information on the packet, to make sure you can give your seeds the growing conditions they need.
– Grow your seeds!
Browse these resources for help getting starting growing vegetables and garden plants from seeds.
Here is our current list of pollinator seeds, many native to Connecticut, that are suitable for winter sowing.  And here is a roadmap of how to do it.
A small number of books from the library's collection are on display at the Seed Library. Visit the 635 section (on the third floor at Miller Library) for a great selection of books on all aspects of gardening.
About the Seed Library

The Hamden Library Seed Library has two distinct collections:
– Seeds for plants that are important to pollinators, mostly natives
– Herb, flower, and vegetable seeds for home gardeners.

We also offer programs based on our two collections.

We are pleased that patrons have started donating seeds from their native plant gardens, and encourage seed saving as part of your garden plans. We will collect seed from community members, with the understanding that we reserve the right to refuse any seeds offered for donation.

From time to time we will continue to provide programming on various aspects of gardening. Workshops to date:

Propagating Pollinator Plants from Seed This Winter
Winter Sowing
Starting Seeds for the Home Garden
Saving Seed from the Vegetable Garden

In addition, program attendees have shown interest in the following topics:

Starting a garden of various types of plants
Maintaining a garden and pruning
Saving seeds (!)
Soil structure and fertility, Rain gardens, composting
Insect ID and control

Do you want to be on the seed library email list? Do you have an idea for a program? Send an email to HPLSeedLibrary@gmail.com.