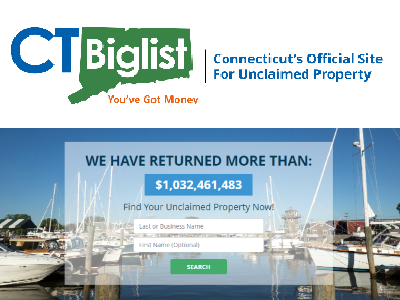 The state of Connecticut is sitting on over a billion dollars of unclaimed property, and is letting residents and businesses know how to claim their cash.
The primary objective of the Unclaimed Property Program in Connecticut is to reunite rightful owners with what is owed them, which is remitted to the state Office of the Treasurer by business entities after the business loses contact with a customer for a period of three to five years.
Unclaimed assets include, but are not limited to, uncashed checks, savings or checking accounts, travelers' checks or money orders, matured certificates of deposit, stocks, bonds or mutual funds, and proceeds from life insurance policies. These assets are held in custody of the state Treasury Department until residents or companies doing business in Connecticut come forward to claim their property.
How To Get Yours
The Unclaimed Property Program in Connecticut has already returned more than $1 billion to residents. The CT Biglist website, maintained by the Treasury Department, allows people to search for and claim their unclaimed property. There's no fee for the services.
To make your claim, log into the site and run a search on your name or business. To better refine your results, you may also enter your first name. Exact name matches will be shown first. Property for entries with similar names will follow. Work your way through the screens, and be prepared to upload documents for larger claims.
Of course, you will also need to verify who you are. All claims require photo identification, and an official document displaying claimant's social security number. If you would rather mail than upload your documents, address the package to:
State of Connecticut
Office of the Treasurer
Unclaimed Property Division
PO Box 5065
Hartford, CT 06102
Residents without internet access can call 1-800-833-7318, Monday through Friday between 8:30 a.m. and 5 p.m., and speak to a customer service representative.
Find more info in the FAQs.
Once you have submitted your claim, mechanisms are in place which allow you to "track your package." Be sure to note your claim number, which can be found on your claim form and in the email you received at the time of submission. You'll then be able to use that number at any time to query the most recent status of your claim online.
As with every other aspect of your computer networked life, scams abound. The State Treasurer's Office urges consumers to not respond to fraudulent letters or emails or provide banking information to unknown sources. Instead, delete whatever bogus emails you receive and then report them to the Internet Crime Complaint Center.