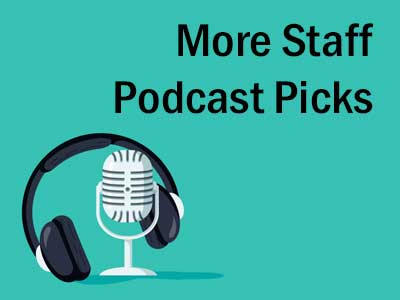 We're a little over halfway through October, and "spooky season" is in full swing. Have you been enjoying our book display of Creepy Reads?
Many members of our podcast team are podcast listeners, too, so if you're in the mood for creepy serialized fiction take a look at some picks Alyssa suggested last year, or consider podcasts from the list below.
Note: the publishers of most podcasts on this list intended their podcasts for mature audiences. Listener discretion is advised.
Paranormal fiction
From the creators:
Folklore professor Jeremy Bradshaw is pulled into the mysterious 1980 disappearance of his police officer father, Thomas, by new evidence that threatens to upend decades of certainty.
This might appeal to you if: you like audio dramas about potentially-supernatural disappearances and family mysteries, or if you share Rebecca's admiration of Lauren Shippen (The Bright Sessions, The A.M. Archives, Marvels, Passenger List).
Start with: Chapter 1: Remnants
Episodes: 10 so far
The legends are real, but the stories are probably made up. Join your narrator around the campfire and listen to "impossible encounters with impossible creatures in the wildest corners of North America", both land and sea. Produced by the content and media team of retailer REI. Suitable for most audiences.
This might appeal to you if: you enjoy scary stories told by a fire; you like North American folklore and urban legend; you have an average of half an hour to listen.
Start with: whatever story makes you curious. Most stories are completed in a single episode; season 3's "The Sasquatch" is an exception.
Episodes: 28 full length episodes so far, plus a few shorter "minisodes"
Nightlight (short story anthology)
In podcatchers, Nightlight is described as "Creepy stories with full audio production written by Black writers and performed by Black actors. So scary it'll make you want to leave your night light on."
This might appeal to you if: you think you'll enjoy an excellent collection of horror fiction written by Black creators from anywhere in the world.
Start with: Up to you, but the Nightlight team shared some of their most popular stories in this Twitter thread
welcome new followers!! if you're looking for a good episode to see what we're all about, here's a list of our most popular episodes:

1. "Letters From Home" by @justinaireland
Zombies in Reconstruction-era America? Yes, please! https://t.co/vEenqpvJUi

— NIGHTLIGHT Podcast (@NightlightPod) May 15, 2021
Episodes: 48 so far, plus bonus episodes
From the creators, about their alternate Appalachia:
Long before anyone lived in these hills, beings of immeasurable darkness and incomprehensible madness were entombed here. It was during this bygone age, when the Appalachians towered much higher and more menacing than the gentle slopes and ridges we know today, that they were conscripted after a great battle to serve as the final prison for those dark forces. But of course, time marches inexorably on. Eons passed and the walls of the prison begin to wear thin. And Things that slumbered soundlessly below for millennia began to stir and become restless.
This might appeal to you if: You may just have to listen to this one to find out. Ghost stories and eldritch horror combine in this collection of stories about people and other beings living in an alternate Appalachia.
Start with: Episode 0: Prologue
Episodes: 30 so far
Using found footage, The Documentarian tells the story of teams of diverse experts who encounter strange phenomena. Seasons 1 and 2 follow the story of a team of strangers who set out to repair an outpost in a remote region of the remote Norwegian archipelago of Svalbard. Seasons 3 and 4 follows an archaeological team sent to examine an archaeological site in the Patagonian Andes.
This might appeal to you if: you like Michael Crichton books, or Lost.
Start with: Episode 1:: Fristed
Episodes: 40 so far
Psychological horror
Stephen King's short story, first published in Urbis in 1968, gets a full-cast audio dramatization
This might appeal to you if: you like Stephen King stories, you're curious about dramatic adaptations of stories
Start with: Chapter 1: Springheel Jack is Back
Episodes: 8
Thrilling science fiction
LifeAfter (complete series)
Also stylized as lif-e.af/ter. From 2016, this thriller follows Ross, a widower who listens to his late wife's voice posts on an audio social media website. What will Ross do when the messages start to change and Charlie–the late wife–experiences a digital resurrection?
This might appeal to you if: you wonder what might happen to your social media archive–or your loved ones'–after you die
Start with: Lif-e.af/ter Ep. 1, and stay for the roundtable discussion "After LifeAfter"
Episodes: 10, not including the roundtable discussion
Note: Panoply, the company that produced LifeAfter and The Message with GE Podcast Theater, no longer exists as a publication company. As of the posting of this blog, we could not find a series site for LifeAfter or The Message. Both podcasts can still be found through most podcatchers.
Nonfiction
There are a lot of books about Jack the Ripper. There are a lot of podcasts as well, including Season 3 of Unobscured. In Bad Women Hallie Rubenhold, historian and author of The Five: the untold lives of the women killed by Jack the Ripper, adapts her work for podcast form.
This might appeal to you if: you're interested in history and true crime podcasts or books
Start with: Episode 1: The Ripper Myth
Suggestions based on podcasts we shared previously:
If you liked TANIS and The Black Tapes, consider Rabbits or The Last Movie. If you like Lore or Unobscured, consider the 13 Days of Halloween.
That's all for this spooky season, but before you go, please consider subscribing to the Hamden Public Library podcast.  Our goal is to not only keep you informed but also entertain and inspire you. Our October episode comes out soon, and features the spooky and mysterious in Connecticut, including here in Hamden.