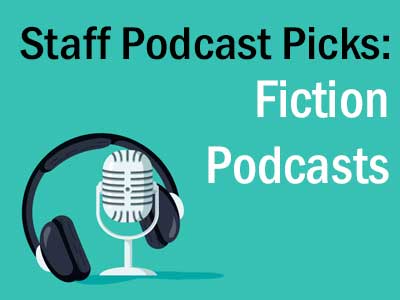 When it comes to podcasts, Miss Alyssa likes spooky serialized fiction. To find her picks, follow the links or search for them in your favorite podcatcher.
The Magnus Archives is a weekly horror fiction anthology examining what lurks in the archives at the Magnus Institute.
Why You Should Listen: Reminiscent of old school radio shows, the stories creep up on you in a way that have you looking over your shoulder while listening. Each episode brings something in from the dark and you are left wondering if you should really be looking so closely…
Episode to Get Hooked: Their website says it best: "Individually, they are unsettling. Together they begin to form a picture that is truly horrifying because as they look into the depths of the archives, something starts to look back…"
Limetown
Limetown is a fictional crime podcast that has been described as "when Serial meets the X-Files."
Why You Should Listen: The question is, what happened to the people of Limetown? You can't help but get hooked right away and every episode only creates more questions as you dive deeper into the mystery. The podcast also has a prequel novel and has been made into a show starring Jessica Biel for Facebook Watch.
Episode to Get Hooked: Start with listening to season one, and then if you wish, read the prequel (though, full disclosure, it is not highly rated) then listen to season two. You can give the show a watch after, but keep in mind that it was cancelled after the first season.
Lore
Lore is a podcast about the history behind common folklore.
Why You Should Listen: Did you ever go to camp? Do you remember staying up and listening to scary stories by the light of a flashlight? Lore feels a bit like that, only the stories are true.
Episode to Get Hooked: You can listen in any order, so find something that piques your interest and dive in.
The Black Tapes
The Black Tapes is supernatural docudrama that deals with the paranormal happenings in The Black Tapes.
Why You Should Listen: Do you like supernatural mysteries? Paranormal frights? If so, then The Black Tapes Podcast is for you. The host is likable and you feel her anxieties as she navigates through the Black Tapes This one walks the line between fact and fiction, who can tell when reality starts and the nightmares end?
Episode to Get Hooked: Start from the beginning with this one.
TANIS
TANIS is a mystery-horror-fiction podcast that weaves legends and science together.
Why You Should Listen: I truly don't know how to explain this one. It's a blur between science and fiction. It's so compelling because you have no idea what is happening and why your heart is racing while you listen. Do you like conspiracy theories? The unknown? Deep-rooted mysteries that keep you on the edge of your seat? You'll like TANIS.
Episode to Get Hooked: Start with the beginning for sure.