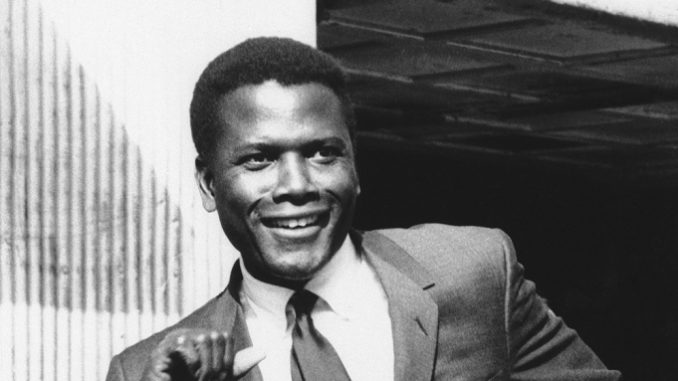 Sidney Poitier, America's first black movie star and Academy Award winner, died at the age of 94.
Born in Miami while his parents were there selling the tomato crop they grew on Cat Island in the Bahamas, he was the youngest of nine children in a very poor family. He quit school at 12 and worked until his parents, concerned that he was taking a wayward turn, sent him to live in Miami with an older married brother when he was 14. He soon left for New York City, where he worked a variety of jobs before joining the Army.
After his Army discharge he saw The American Negro Theater was looking for actors. He auditioned, but his heavy Bahamian accent and limited ability to read led to failure. By listening to radio announcers to improve his speech and getting help with his reading, he succeeded in being accepted at The American Negro Theater's acting school.
When another member of the school, Harry Belafonte, failed to appear for a rehearsal a Broadway producer was attending Poitier took his place and was offered a part in the producer's all black production of Lysistrata
That was the start of an acting career that eventually landed him in Hollywood. He made more than thirty movies. In 1967 To Sir with Love, In the Heat of the Night, and Guess Who's Coming to Dinner were released, making him Hollywood's biggest box office draw at the time. He also produced, directed, appeared on television and Broadway, wrote two memoirs and a novel, Queen Elizabeth II knighted him in 1974, in 2002 his career was recognized with an honorary Oscar and President Obama awarded him the Presidential Medal of Honor in 2009.
Growing up in the Bahamas, he never experienced segregation. When he moved to Miami it was in the midst of the Jim Crow era and the ways southern whites treated blacks were shocking to him. He became a life – long activist and advocate for civil rights and racial justice. Because he was aware the audience perception of blacks was often based on negative and racist portrayals he strived to represent blacks more positively and honestly. This was a burden to him and as he wrote in his memoir "I felt very much as if I was representing 15, 18 million people with every move I made."
Check out Sidney Poitier's work from our collection.