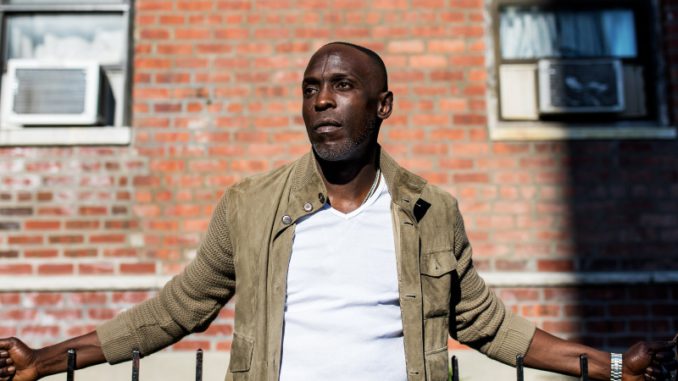 Actor Michael K. Williams died on September 6, 2021 at the age of 54, presumably of a drug overdose. He had struggled with addiction and substance abuse since he was 19 and despite trying to overcome his struggles, lost that fight.
Williams appeared in several HBO series, most notably The Wire and Boardwalk Empire, but it was his portrayal of the complex and charismatic Omar Little, a Baltimore stick up man who robbed drug dealers, in The Wire that brought him much deserved acclaim. The series, created by former police reporter David Simon, told stories of drugs, corruption and failed systems in the city of Baltimore and how it shaped the lives of the characters. The show ran from 2002 – 2008 with 60 episodes and 5 seasons, each with a different focus, and those stories are still relevant today, 13 years later.
The Wire was overshadowed by shows like the Sopranos or Breaking Bad, but is still considered to be the best television series. Many of the actors were not well known or non-actors, but Idris Elba as Stringer Bell went on to considerable success as did a teenage actor named Michael B. Jordan who appeared in Season 1 as Wallace.
DVDs of The Wire and Boardwalk Empire are available at Miller Library and as an indication of the cultural and societal importance of The Wire, Miller Library also has 2 books on the subject.
All The Pieces Matter – Jonathan P. Abrams
https://hm.catalog.lionlibraries.org/Record/.b2565486x?searchId=7853939&recordIndex=1&page=1
The Wire and Philosophy: this America, man
https://hm.catalog.lionlibraries.org/Hoopla/MWT11784110?searchId=7853936&recordIndex=19&page=1
If you, or anyone you know, are in need of help with addiction or substance abuse Yale Behavioral Health Services at Hamden, a licensed outpatient clinic, offers treatment plans for a variety of issues.
https://hamdenlibrary.org/community/yale-behavioral-health-services-at-hamden/