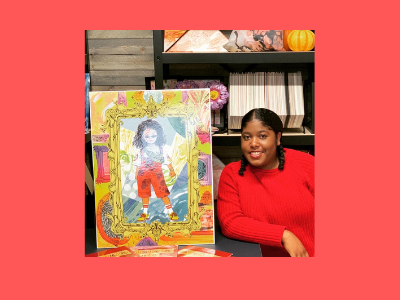 Food is Love by Caela Collins
Caela Collins is an indie author whose goal is to inspire young minds from all backgrounds by using her imaginative writing skills and conceptual artistic direction to highlight protagonists of color.
Food is love is an adventure story about a young girl who is sporty, curious and has a wild imagination. There is a lesson about grief and how the traditions we carry out within our family are acts of love and stay with us even after  they are gone.
Food, History, Family, Love
Click here to download a copy of the Food is Love activity sheet created by Kim Balacuit.
You can download the free app, Novel Effect and enjoy the book as an interactive reading experience.
Join us on Saturday, May 16 at 2:00 for a reading of the book and a chat with Caela!