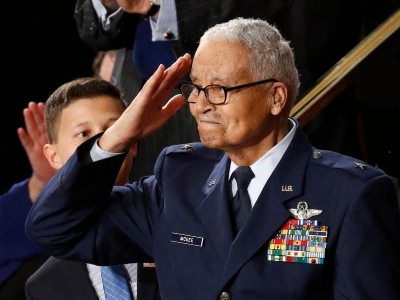 Military pilot Charles McGee, one of the Tuskegee Airmen, died in his sleep on January 17 at the age 102.
During his 30 years of military service he completed 409 combat missions in three different wars – WW11, Korea and Vietnam. He retired from military service on Jan. 31, 1973, with a record of 6,308 flying hours and 409 combat missions, one of the highest in service history.
His flying career began in 1942 after the Army Air Corps was required to admit African-Americans. He joined an experimental program to train black pilots at Tuskegee Army Air Field in Alabama, graduated in 1943 and in 1944 joined the all black 332nd Fighter Group, also known as the Red Tails. This was in the Deep South during the Jim Crow Era. The experiment had many doubters and detractors who thought blacks had neither the intelligence needed to learn to fly a plane nor the courage to fly combat missions. The332nd Fighter Group proved them wrong by flying 136 missions escorting heavy bombers on raids in Europe. Their record was excellent.
In spite of the courage and successes of the Tuskegee airmen in the war, they were segregated during their service and discriminated against at home. It seemed they were fighting two battles, WWII and the fight for equal opportunity. As he said in a 1995 interview "We knew we had the same skills, or better."
McGee dedicated his later days promoting the aviation industry and speaking to, inspiring, and encouraging young people to follow their dreams and face whatever challenges they come across.
Learn more about the Tuskegee Airmen