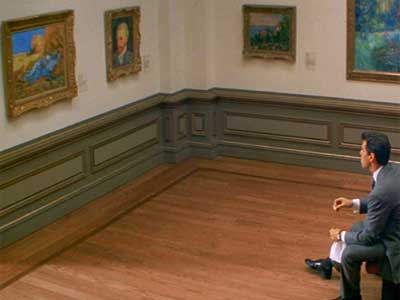 Currently, a popular poll on the Internet Movie Database (IMDb) asks users to choose their favorite film biography of Vincent Van Gogh. There are nine (yes, nine) choices in the poll. Nine films have been produced between 1956 when Lust for Life starring the late Kirk Douglas introduced movie goers to the idea of portraying the making of art on screen and 2020. Which movie is running ahead in the poll? Resoundingly, at twice the number of votes as the next closest contender is the 2017 release Loving Vincent, the Oscar-nominated, multi-award-winning feature film that, for the first time, used oil paintings (65,000 of them painted by 125 artists) as the basis for animation. This ambitious project was originally funded by 796 Kickstarter backers. Happily, Hamden Public Library patrons can watch both Loving Vincent and the documentary about its inception and production, Loving Vincent: The Impossible Dream, using our entertainment streaming service, Hoopla. All you need is a Hamden Library card. Don't have one? Just sign up here.
Since 1956 biopics portraying the lives of artists have grown in popularity and many of them are available through various streaming services (Amazon Prime, Netflix, AppleTV etc.), and readily accessible during our confinement. Recommended among them and coming in at number three on the IMDb Van Gogh poll is the recent Eternity's Gate (2018) starring Willem Dafoe as the tormented artist. Directed by the multi-talented Julian Schnabel, this portrait of Van Gogh presents a look at his fractured thought processes that combine his artistic visions with his emotional responses to the world around him.
If you haven't seen it before—or even if you have—give Pollock, starring Ed Harris as the volatile mid-century artist Jackson Pollock, who brought new meaning to the term abstract painting a try. The film's genesis came in the 1980s, Harris explains, when his father, who worked at the Art Institute of Chicago bookstore, sent him a copy of the Pulitzer-Prize-winning biography Jackson Pollock: An American Saga for Christmas with a note hinting that there might be the makings of a movie in its pages.
Other faithful film biographies worth your streaming time include Salma Hayek's 2002 portrayal of Frida Kahlo in Frida also starring Geoffrey Rush and Alfred Molina and Mr. Turner, a 2014 British production that depicts the final two decades of the controversial life of J.M.W. Turner. Filmed on location at various Turner residences and settings for his paintings, the Academy Award-nominated cinematography brings Turner's land- and seascape inspirations to life for the viewer.
2017's dramedy Final Portrait, covers a period during the final months of the life of Alberto Giacometti (Geoffrey Rush) as he attempts to paint a portrait of author James Lord ( Armie Hammer) to the frustration of both men. In 2006 Renee Zellweger focused her Oscar-winning acting talents on the life of Beatrix Potter in Miss Potter, a film which not only recreates the artist-author's imaginary voyages into the world of Peter Rabbit and his friends but also portrays a woman of considerable business acumen and environmental awareness who was truly ahead of her time in Victorian England. Ewan McGregor co-stars as her publisher-later-husband, Norman Warne with Emily Watson as his spirited sister, Millie. Joan Allen takes on the role of Georgia O'Keeffe in the eponymous TV movie from 2009 with Jeremy Irons as O'Keeffe's mentor-husband Alfred Stieglitz. Filmed in part at O'Keeffe's beloved Ghost Ranch, the film covers a majority of the artist's adult life which was continuously influenced by her tumultuous relationship with Stieglitz.
But biographies are not the only vehicle for bringing art and art-making to the screen. Over the years, a number of films have used art as a catalyst for drama. We'll round out our baker's dozen with five of them. An obvious choice for this group is The Girl with the Pearl Earring (2003) based on Tracy Chevalier's 2000 novel (available for free download as both an e-book and an e-audiobook through Hoopla and Overdrive) which tells the imagined story of the creation of Johannes Vermeer's haunting portrait of a young servant girl.
The oldest among this group is The Thomas Crown Affair. Originally produced in 1968 starring Steve McQueen and Faye Dunaway, the fast-paced art heist tale was remade in 1999 with Pierce Brosnan, Rene Russo and Connecticut's own Denis Leary as a wise-cracking detective. An hour and 53 minutes fly by as we watch Crown and insurance investigator Banning (Russo) spar over the disappearance of a priceless Monet from New York's Metropolitan Museum. Not to be missed.
Next up, Robin Williams takes on the role of Chris Nielsen in What Dreams May Come (2002) based on sci-fi writer Richard Matheson's 1978 novel (also available from Hoopla as an e-audiobook). When Nielsen dies in an automobile accident, he, with the help of his spirit guide (Cuba Gooding, Jr.), endeavors to reach out to his grieving wife, Annie (Annabella Sciorra) through her paintings.
Joan Allen's portrayal of Georgia O'Keeffe's life in New Mexico was not her first trip to the Land of Enchantment in pursuit of art. In the 2003 Campbell Scott adaptation of a stage drama, Allen plays Arlene who quietly leads an off-the-grid life with her husband Charley (Sam Elliot) and their young daughter in the New Mexican desert until IRS agent William Gibbs (played by The Wire's Jim True-Frost) arrives to determine why the family has not filed income tax forms in several years. Through a series of happenstances, Gibbs is forced to stay on with the family, eventually coming to terms with his own past and shedding his career as a civil servant to express himself through painting.
And, finally, number thirteen, also available through Hoopla, is Words and Pictures starring Juliette Binoche as Dina Delsanto, an artist forced by the onset of rheumatoid arthritis to not only take a job as a prep school art teacher but to find a new way to produce her paintings in the wake of her illness. At the school she encounters a seeming nemesis in English teacher Jack Marcus (Clive Owen) who devises a school-wide challenge to determine whether words or images are the most potent means of communication, pushing both teachers to see beyond their personal burdens. Don't overlook the artwork—all of Delsanto's creations were actually painted by Binoche.
Did I miss a favorite art-related film of yours? Tell us about it in the comments section below.
Films included in this post:
Loving Vincent
Eternity's Gate
Pollock
Frida
Mr. Turner
Final Portrait
Miss Potter
Georgia O'Keefe
The Girl With the Pearl Earring
The Thomas Crown Affair (1999)
Off the Map
What Dreams May Come
Words and Pictures