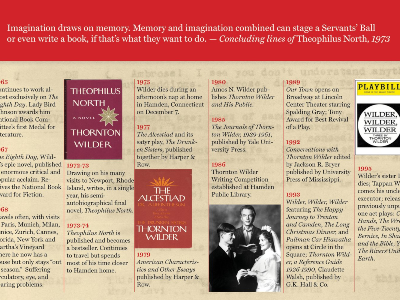 The 125th anniversary of Thornton Wilder's birth (April 17, 1897) will be observed throughout 2022 with nearly 150 productions of his plays worldwide – including OUR TOWN, a new production of THE SKIN OF OUR TEETH on Broadway and a first-ever staging of his unfinished play THE EMPORIUM completed by Kirk Lynn (Rude Mechanicals) at the Alley Theater in Houston – along with new editions of several plays, the recent new edition of Wilder's Pulitzer-Prize winning novel "The Bridge of San Luis Rey," and the completion of the Thornton Wilder Library editions of all of Wilder's novels and major plays, it has been announced by Tappan Wilder, the late author's nephew and literary executor. 
Almost 50 years after his death in 1975, Wilder remains one of the most widely-produced playwrights in the world, and international productions of his plays have been licensed in 2022 (to date) to theaters in Hungary, Czech Republic, Ecuador, Serbia, China, Romania, Greece, Hong Kong, Japan, Portugal and Spain.  A production had also been licensed to Ukraine.  
A highlight of the anniversary year will be the release of a new short documentary film, Thornton Wilder: It's Time, on April 27 as part of an evening celebrating the author at Lincoln Center Theater, where THE SKIN OF OUR TEETH is receiving a major Broadway revival this spring, directed by Lileana Blain-Cruz. Featured in the documentary are interviews with playwright Paula Vogel, Ms. Blain-Cruz and never-before-seen interviews with A.R. Gurney, Mia Farrow and rarely-seen footage of Wilder himself.  Subsequent to its premiere, Thornton Wilder: It's Time will be made available free to theaters, schools and libraries everywhere. 
Learn more at https://www.wilder125.com/
Wilder resided in Hamden for much of his life, and the town keeps the memory and spirit of Thornton Wilder alive in:
– Thornton Wilder Hall in the Miller Memorial Central Library and Cultural Complex, where "Our Town" and many other plays, musicals, and cultural events take place year-round.
– The Thornton Wilder Study at the Miller Memorial Central Library, where furniture and memorabilia from his home on Deepwood Drive are located.
– The Annual Thornton Wilder Writing Competition sponsored by the Friends of the Hamden Library for area high school students.