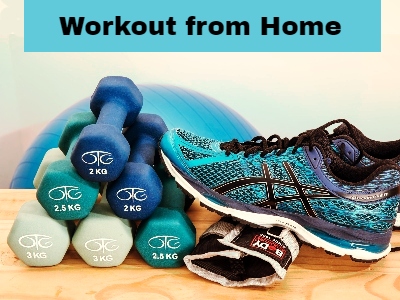 Having trouble getting motivated? Missing your Zumba class? Yoga class? Strength training?  "Stay safe, Stay home" may be the order of the day (okay, months), but don't let it keep you on the couch or chair all day! Keep your body moving and your brain will thank you!  Try to aim for 30 minutes a day!
First, get yourself motivated with Wendy Suzuki's TED talk about the immediate benefits and brain-changing effects of exercise. It will inspire you to exercise for many reasons!
Hoopla online has a large collection of workouts to choose from- available with your library card
American Heart Association offers many virtual workouts for individual or family fitness.
The younger kids can have fun with 25 ways to Get Moving
YMCA has videos for all ages
Check out Daily Burn and Grokker for free trials
Watch a few videos of Yoga with Adriene and you will see why she has over 7 million Youtube followers
Lululemon also offers a great variety of yoga videos on Youtube
Lifetime and Orange Theory at Home offer a variety of workouts
If walking is your thing and you want to step it up, try these walking tips from AARP
Lastly, don't forget about stretching before and after any exercise, or just taking a stretch break from sitting too long!