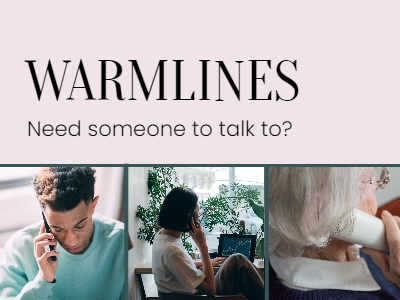 Warmlines are similar to hotlines in that they are free, peer-run phone lines that connect callers to clinically supervised and trained mental health advocates, including social workers, who provide emotional support. The difference is that warmlines take an early intervention approach to alleviating struggle, while hotlines are more often used to manage crises that already exist.
For people who struggle to find support, especially during difficult transitions, these phone lines allow them to open up about their experiences and create meaningful connections with the person on the other end.
Warmlines in the greater New Haven area and statewide:
Safe Harbor Warm Line (Continuum of Care, Inc.)
New Haven, CT
1-800-258-1528
5pm – 10pm; 7 nights per week, including weekends and holidays
Reach Out Greater New Haven Warmline (Clifford Beers) 
New Haven, CT
(203) 287-2460
8:30am – 7pm Monday-Thursday
8:30am – 6pm Friday
877-552-8247- Select Prompts 1 & 3
Para español, seleccione el numero 2 & 2 or 711 for Relay Services
9 am – 5 pm Monday – Connecticut Behavioral Health Partnership Warmline (ctbhp.com)Friday
JoinRiseBe Statewide Young Adult Peer Initiative/Warmline (Advocacy Unlimited)
1-855-6-HOPENOW
12pm – 9pm; 7 days per week
---
If you or someone you know is experiencing a serious mental health crisis, call 911 or the National Suicide Prevention Lifeline, which operates 24 hours a day, every day and can be reached at 1-800-SUICIDE or 1-800-784-2433.