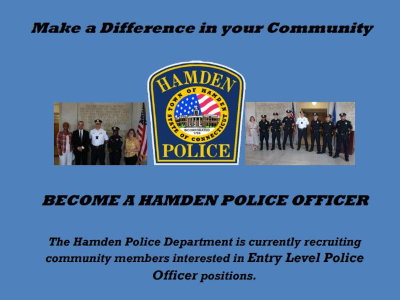 Make a Difference in your Community
BECOME A HAMDEN POLICE OFFICER
The Hamden Police Department is currently recruiting community members interested in Entry Level Police Officer positions.
Salary
– Entry Level Police Officer Salary Range of $70,194.05 – $92,578.63 (After 3.5 Years)
Retirement
– CMERS pension after 25 years of service.
Other Benefits
– Education Incentives, Shift Differential & Longevity Bonus Compensation.
– Medical / Dental Insurance.
– Paid Time Off (Vacation, Personal, and Sick).
– Paid Holidays, Annual Uniform / Clothing Allowance, & Life Insurance.
To apply go to: www.policeapp.com