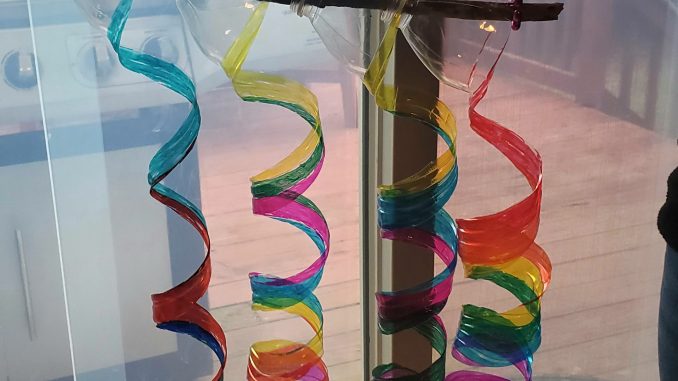 Good morning, friends! We are going to make some wind spirals using recyclable materials you can find at home! Grab your materials (and your grownup) and let's get crafting!
Materials needed:
Non-washable or Permanent Markers

4-5 Plastic Water Bottles

Scissors

A stick

String or yarn
Start by removing the bottle cap and any labels from the water bottle. Once these are removed, you are free to start coloring the water bottle!
( as an added touch, feel free to add gems or other decorative craft materials once you've completed your coloring.)
With assistance from an adult, start at the bottom of the bottle and mark an incision to cut out the bottom of the bottle. Once you've removed the bottom circle you can begin cutting upwards in a gradual spiral pattern. Once you reach the top part of the water bottle (the part where the ridges end), you can stop cutting.
(Protip: The tighter you cut the spiral, the more it will be elongated.)
Once you have cut all of your bottles, you can assemble them on the stick! You insert the stick into the mouth of the water bottle so that the spiral ends are hanging below. Line up all your spirals along the stick.
Tie both ends of a piece of string or yarn to either end of the stick, with the spirals in the middle (feel free to use whatever materials you would like for the string! I opted for a beaded necklace that I cut and tethered to either end). Hang from the branch of a tree or from your porch. Enjoy the colors as the wind blows!