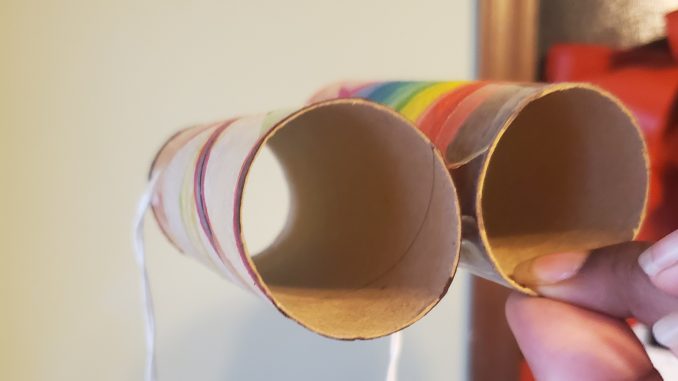 Good morning all! Today we are making binoculars and going on a safari! Our binoculars will be made from some recyclable materials and then we will go on a search for different colors that we can find around our homes.
Materials needed:
2 toilet paper rolls
Markers or stickers
String or yarn
Tape and/or glue
Starting with your toilet paper rolls, decorate and design them however you wish. We used permanent markers and did two different designs on both toilet paper rolls.
Once you've finished decorating your toilet paper rolls, you can either use tape around the top and bottom edges (see image below) or glue the two pieces together. Be sure to allow them time to dry if you choose to use glue!
Attach your string to your binoculars…
Once you have finished making your binoculars, you're ready to start your Safari!
Can you find these colors in each of the rooms listed below?
Find the color
YELLOW

or

GREEN

in the Living Room
Find the color
WHITE

in the Kitchen
Find the color
BLUE

in the Dining Room
Find the color
RED

or

PINK

 in your Bedroom
Find the color
PURPLE

in a Closet
Find the color
BLACK

in the Bathroom

Happy searching!