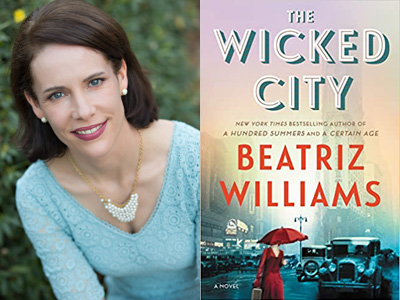 Born in Seattle, Washington, but now a Connecticut resident, Beatriz Williams is a New York Times and USA Today bestselling author of historical fiction and a screenwriter. After graduating from Stanford University and receiving an MBA in Finance from Columbia University, Williams worked and lived in London and New York where she was a communication strategy specialist. While working in these jobs she concealed her first literary works on company laptops. She eventually abandoned this career to turn her full attention to writing novels, so that she could combine her passion for history with an obsessive devotion to voice and characterization.
Williams' novels take place in a variety of time periods, ranging from the 1910s up through the 1960s. She wrote several books taking place in the Jazz Age, and she superbly captures life in the Roaring '20s, full of love and scandal in New York modern society. A Certain Age, The Wicked City, and Cocoa Beach are filled with luxury, impressive characters, sophisticated style, humor and titillating twists.
Meet Beatriz Williams through this video where she talks about Wicked City.
You can access all of her novels in ebook format through our catalog (Many are also available as downloadable audiobooks.) Just click on the titles in the lists below.
Schuyler Sister Books
The Secret Life of Violet Grant (2014)
Tiny Little Thing (2015)
Along the Infinite Sea (2015)
Wicked City Books
Wicked City (2017)|
The Wicked Redhead (2019)
Standalone Novels
Overseas (2012)
A Hundred Summers (2013)
The Forgotten Room (2016)
A Certain Age (2016)
Cocoa Beach (2017)
The Summer Wives (2018)
The Glass Ocean (2018)
The Golden Hour (2019)
All the Ways We Said Goodbye (2020)