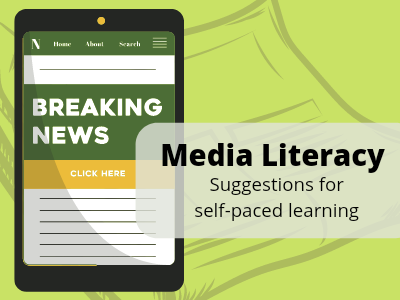 The ability to "access, analyze, evaluate, create, and act using all forms of communication" is called media literacy. Whether you call mediated messages created to mislead "fake news," "media bias," "bullpucky," or something more emphatic, analyzing and evaluating media messages we receive every day through print, audio, and video communication is difficult. Below are some suggestions to help teen and adult media consumers refresh or improve their information analysis and evaluation skills, both around the upcoming election and in general.
Online Resources
Common Sense Media's Young Voters' Guide to Social Media and the News contains resources to help young adults "learn how to find sources of credible information about candidates, voting, and the election" and includes tools and resources for students, teachers, and parents. The resources are free and accessible to all.
Poynter Institute's MediaWise program teaches "people key digital literacy skills to spot misinformation and disinformation so they can make decisions based on facts, not fiction." MediaWise has lessons for three categories of learners: people in Gen Z, first-time voters, and older adults. Classes for first-time voters and older adults are self-directed, while MediaWise for Gen Z includes both resources for self-directed learning and tools for educators.
Social media users of all ages can follow @MediaWise on Instagram, Twitter, Facebook, Youtube, and TikTok. On those platforms, you can direct message MediaWise claiming "you want help checking out online," or tag a post #IsThisLegit to ask for help fact-checking information you reblog.
Available through Hamden Public Library
If you have more time, another resource to consider is Manufacturing Consent: Noam Chomsky and the Media. This documentary explains Chomsky's propaganda model with Edward S. Herman as a lens to explain media bias and why a story on the same topic may look very different depending on who produces or airs the story.
Find Manufacturing Consent: Noam Chomsky and the Media in our catalog.
Manufacturing Consent is also available through Kanopy.
If you'd prefer to read or listen to Herman and Chomsky's book, find Manufacturing Consent: The Political Economy of the Mass Media in our catalog.
Calling Bullshit: The Art of Skepticism in a Data-Driven World is a new book in our collection, based on an undergraduate college course of the same name. University of Washington professors Carl Bergstrom and Jevin West write about finding, identifying, and calling out "bullshit" as a way of teaching skepticism around not just fake news, but anything that doesn't add up. While the original course isn't available as a MOOC when we published this blog post, curious learners can find the Calling Bullshit class syllabus (with links to readings) by following the link.
True or False: A CIA Analyst's Guide to Spotting Fake News is written in an easy, conversational tone that's accessible to teens and adults alike. Former CIA analyst Cindy L. Otis summarizes the history of fake news, shows how digital media has made fake news easier to create, and gives tips on identifying fake news media, whether articles, doctored photos, videos, or memes. Access the audiobook through Hoopla, or request a copy from another LION library.
The definition of media literacy cited at the top of this post comes from the National Association for Media Literacy Education (NAMLE).