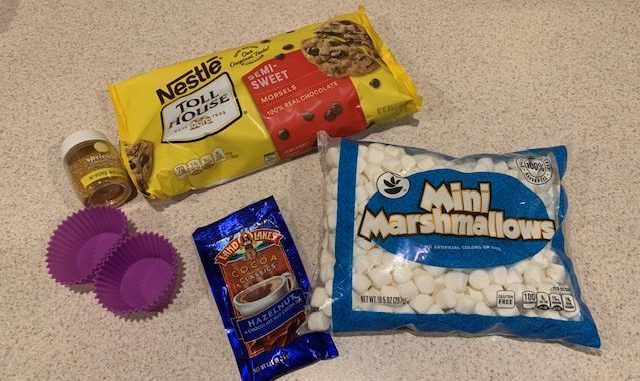 Hot Cocoa Bombs
Hello, friends! Today we are going to learn how to make hot cocoa bombs. Some of you may have signed up for a grab and go kit with ingredients. If you did not get a kit, that's okay! These are easy to make and they only take a few ingredients. Here we go!
Gather your ingredients:
Silicone molds (you can use silicone cupcake liners, a silicone cupcake pan, or buy your own hot cocoa bomb molds online)
Chocolate chips (I used semi-sweet but you can use milk chocolate, butterscotch, white chocolate, etc. be creative!)
Hot chocolate mix
Additional treats (marshmallows, sprinkles, peppermint candy – add whatever you think would taste yummy in hot chocolate!)
Warm milk
Place your chocolate in a microwavable bowl and microwave the chocolate in 15 second intervals until it is mostly melted.
Once your chocolate is melted, put it into your molds. You can use a pastry brush or even a spoon to make sure the chocolate covers the bottom and the sides of your mold.
4. Let your chocolate harden in the molds. You can put it in the freezer for about 10 minutes or so to move the process along.
5. Once your chocolate has hardened, pop your chocolate out of the molds.
6. Fill one side of your mold with the powdered hot chocolate. Don't fill it too high (like I did!) maybe about ¾ full.
7. Add whatever other treats you would like. I added some marshmallows and sprinkles.
8. Now you have to attach the top of your hot cocoa bomb! Take a plate and put it in the microwave again for 15 second intervals. BE CAREFUL taking it out of the microwave, it is going to be warm!
9. Put your chocolate "top" on the plate "seam" side down and move it around a bit to get a little melty.
10. Now you can attach the top of your hot cocoa bomb! If you want, you can add some melted chocolate and sprinkles on top to get fancy.
11. What's next? Put those hot cocoa bombs in your mugs, of course!
12. Warm up some milk, pour it over, stir, and enjoy!