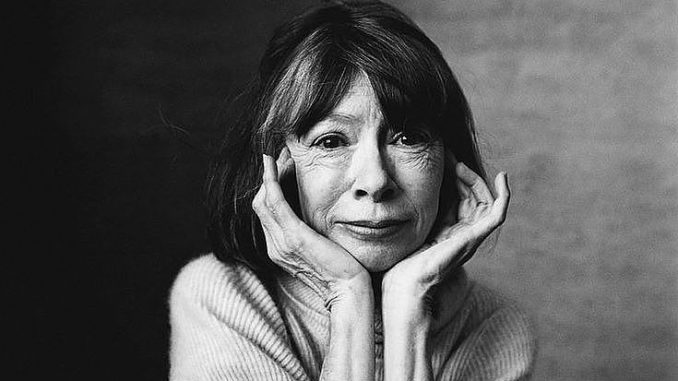 Columnist, essayist, novelist, screenwriter, political reporter, and memoirist Joan Didion died on December 23 from complications of Parkinson's disease. She was 87 years old.
Her writing career began when she entered a short story contest at Mademoiselle Magazine while she was a junior at UC Berkeley and that story won her a guest editor spot. From there she went on to write for Vogue, Life, The Saturday Evening Post and The National Review. She often wrote about post-war American life and the turbulence and chaos of the 60s and 70s. Slouching Towards Bethlehem, 1968, is a collection of essays that brought her critical acclaim and recognition.
In 1963 Run, River, the first of her five novels was published. Her most successful novel was Play It as It Lays, about a young, depressed Hollywood actress in emotional crisis in the 60s.
In the 70s she and her husband John Gregory Dunne turned to screenwriting.  They co-wrote five screenplays, including the screenplay for A Star is Born with Barbra Streisand and Kris Kristofferson as the leads which was enormously successful.
Didion was married to Dunne from 1964-2003, when he died of a heart attack. He helped her edit Run, River and they married a year later. They adopted a daughter, Quintana Roo, in 1966.Shortly after Dunne's death Quintana was diagnosed with a severe illness that led to her death in 2005.
The Year of Magical Thinking covers the year after her husband death. It won the National Book Award and was adapted for a one woman play starring Vanessa Redgrave. Blue Nights is a memoir of her daughter's death.
Joan Didion's career was long, prolific, and varied. Known for her elegant prose and keen insight, she is one of America's most iconic writers.