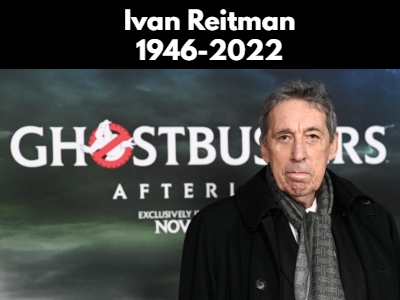 Producer-director Ivan Reitman died unexpectedly in his sleep at his home in Montecito, California. He was 75 years old. The cause of death was not disclosed.
Reitman was born in what was then Czechoslovakia to a mother who survived Auschwitz and a father who was an underground resistance fighter. The family immigrated to Canada in 1950 to escape Communism and settled in Toronto.
While attending McMasters University in the 60s he began producing and directing short films. It was at his first producing job at a television station that he met future collaborator and friend Dan Aykroyd . He produced 2 movies for David Cronenberg, Shivers and Rabid, in the 70s. His first big successes were with National Lampoon's Animal House in 1978 and Meatballs in 1979. Those irreverent anti-establishment films and others like Ghostbusters and Stripes were wildly popular, making him one of the most successful comic filmmakers of the time and showcased the talents of John Belushi, Bill Murray and Dan Aykroyd.
National Lampoon's Animal House came to be because Reitman was a big fan of the National Lampoon magazine and after producing their off-Broadway show he approached publisher Matty Simmons  to make movies inspired by the magazine's satirical content. Although he wanted to direct it, Universal Studios decided a more experienced director was needed so John Landis was hired. Reitman produced it and stated the most difficult task was finding a college campus that would sign on after reading the script.
In 2000 Reitman built the Montecito Picture Company, a production company in California and to honor their late parents their children donated land that their business once occupied to the Toronto International Film Festival to build Bell Lightbox, a cultural center in downtown Toronto. In 2007 Reitman was inducted into the Canada Hall of Fame. He leaves behind a long and varied filmography and career.
In an interview with Canadian magazine Maclean's in 1986 Dan Aykroyd said "He has a great feeling for the pulse of an audience," "He knows how to build those points of reaction, the peaks and valleys that make a movie work."
Reitman's most popular films weren't often taken seriously but with their casts of underdog and misfit characters, their hilarity, bawdiness and satire, they reached wide audiences, were box office successes and created a new type of comedy.
Ivan Reitman materials in our catalog:
https://hm.catalog.lionlibraries.org/Author/Home?author=%22Reitman%2C%20Ivan%22