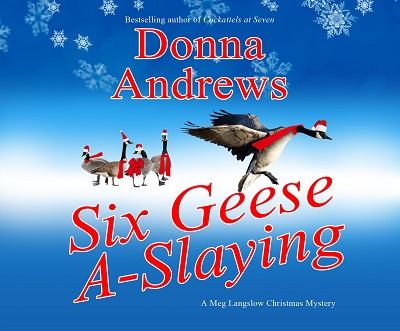 Almost everyone knows the birds of Christmas – the partridge, the turtle doves, the calling birds, the French hens…  Author Donna Andrews, all of whose twenty-eight books contain a bird in the title, has seven Christmas mysteries:
Six Geese A-Slaying
Duck the Halls
The Nightingale Before Christmas
How the Finch Stole Christmas
Lark the Herald Angels Sing
Owl be Home for Christmas
The Gift of the Magpie
Meg Langslow is a blacksmith who does decorative ironwork. Over the course of the series, Meg marries a college professor, becomes the mother of twin boys, and remains the voice of reason and common sense while surrounded by an extremely eccentric family. The Christmas mysteries are set in picturesque Pennsylvania and is a must for those who like their mysteries humorous and cozy! 'Tis the season for small town hijinks and Yuletide greetings of crime to go with your warm blanket and hot cocoa!
New York Times bestselling author Donna Andrews writes "firmly in the grand tradition of Agatha Christie's Christmas books" (Toronto Globe and Mail)
Search for 1,000+ Christmas-themed mysteries in our library catalog from this link.