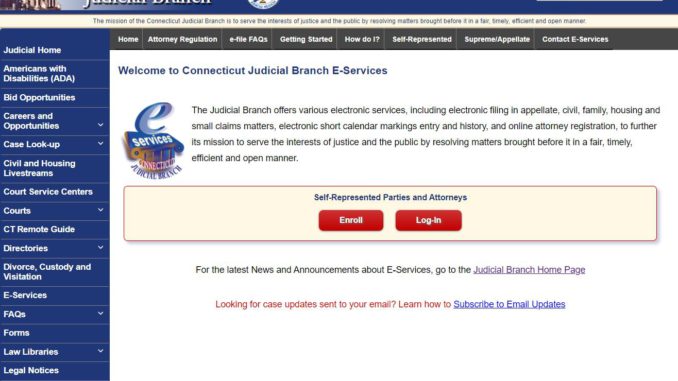 Did You Know You Can Get Civil/Family Case Notices and Case Updates Electronically?
Visit Connecticut Judicial Branch E-Services to sign up!
DON'T WAIT FOR PAPER IN THE MAIL.
You can receive official court notices (JDNOs) in your inbox by signing up for EServices and requesting electronic access to your case for FREE!
Receive JDNOs in your inbox such as:
o Trial, hearing, pretrial, status conference and mediation notices,
o Court order notices (may be referred to as SCRAM notices),
o Docket number assignment notices,
o Transfer notices, and
o Docket number change notices.
Learn how to sign up for an E-Services Account: EServices_Inbox_QuickCard (PDF)
Don't want an E-Services account? Sign up to have notice of case updates sent straight to your email!
Updates will let you know there is activity on a case such as:
o The filing of a document;
o The entry of an order;
o The scheduling of a case on the short calendar; or
o The scheduling of a case event, such as a pretrial, status conference or hearing
Learn how to sign up for an Email updates: ExtUser_Request_emailupdates_Quickcard
ASK A COURT SERVICE CENTER MANAGER FOR MORE INFORMATION:
Court.ServiceCenter@jud.ct.gov