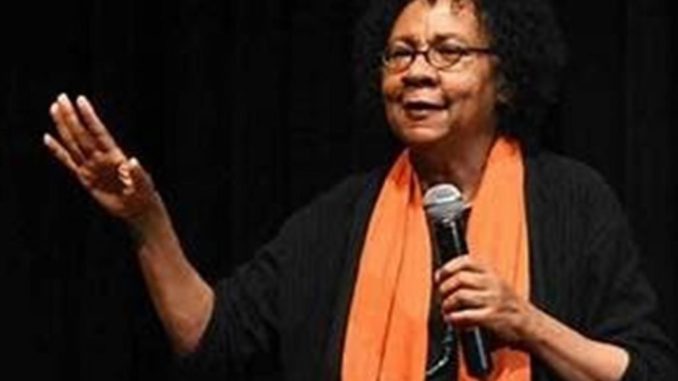 Poet, author, feminist, professor, critic and activist Gloria Jean Watkins died on December 15th at the age of 69 after a lengthy illness. She adopted the pen name of bell hooks in honor of her great grandmother, always using lower case letters to ensure the emphasis was on her books, not on herself.
Born in Kentucky and educated in segregated schools, she went on to receive degrees from Stanford and the University of Wisconsin and a doctorate in literature from the University of California, Santa Cruz. She taught at Stanford, Yale, Oberlin and CCNY, eventually returning home to Kentucky to teach at Berea College, home of the bell hooks center.
The first of her more than 36 books, a poetry collection, And There We Wept, was published in 1978. In the early 1980's, she published two works addressing feminism and the experience of African American women. The best known of these was Ain't I a Woman: Black Woman and Feminism, established a correlation between American slavery and the modern societal status of Black women. The other, Feminist Theory: From Margin to Center, critically examined the feminist movement's tendency to be more focused on white women's privilege and experiences. Her writings went on to be wide ranging, covering race, gender, socioeconomic class, sexuality and geographic place.  Her words have been influential and life changing for many readers.
Ain't I a Woman: Black Women and Feminism
https://www.goodreads.com/book/show/250792.Ain_t_I_a_Woman?from_search=true&from_srp=true&qid=axyTRIIrCs&rank=1
Feminist Theory: From Margin to Center
https://www.goodreads.com/book/show/51378.Feminist_Theory?ac=1&from_search=true&qid=if0bJd2Uh5&rank=5
https://people.com/human-interest/black-feminist-author-bell-hooks-dead-kamala-harris-ibram-x-kendi-others-pay-tribute/