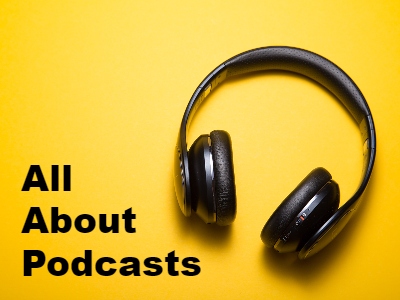 What is a podcast?
A podcast is similar to an on-demand radio show. Podcasts can be any length of time, on any subject, made by anyone. Some podcasts are made by radio stations or podcast-specific production companies, but others are made by passionate amateurs with a microphone and a good idea. Most are free to listen, but many include ads to help pay production costs.
How do I listen to podcasts?
You can listen to individual podcasts by going to the podcast's web page and clicking "play" in their web-based media player. Sometimes, from providers like NPR, you can listen to more than one podcast by building a playlist in your web browser. If you use a mobile device or listen to podcasts from more than one producer, listening will be easier if you use a podcatcher.
What is a playlist?
A playlist is a sequence of podcasts, songs, or videos, set in order by either the listener or the computer. Think of it like you're your own radio programmer, or building a mixtape.
What is a podcatcher?
A podcatcher is an app on your computer or device that "downloads and aggregates podcasts for synchronization to a digital music player" (retrieved from PC Mag Encyclopedia 24 March 2020). What that means is that when you subscribe to a podcast in the app, it downloads new episodes for you when they're available. When you're ready to listen, either the podcatcher makes playlists for you, or it gives you the ability to make your own.
Examples of podcatchers are Apple Podcasts and Google Podcasts, which are both free. Other podcatchers like Podcast Addict and Stitcher are also available at no cost and offer most podcasts for free, but also have premium tiers.
The Hamden Public Library staff will soon be sharing some of our favorite podcasts with you. To see only our podcast "staff picks" now or in the future, choose "Podcasts" from our popular tags.
All our selections will be available to podcatcher users with free membership