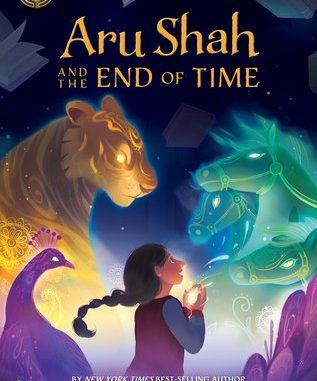 Hi there, friends!
Did you know that with your library card you can download e-books, e-audiobooks, graphic novels, music and movies? Well, YOU CAN! Here is a list of my favorite children and middle grade e-books available on Hoopla right now!
Aru Shah and the End of Time by Roshani Chokshi
Twelve-year-old Aru Shah has a tendency to stretch the truth in order to fit in at school. While her classmates are jetting off to family vacations in exotic locales, she'll be spending her autumn break at home, in the Museum of Ancient Indian Art and Culture, waiting for her mom to return from her latest archeological trip. Is it any wonder that Aru makes up stories about being royalty, traveling to Paris, and having a chauffeur?
One day, three schoolmates show up at Aru's doorstep to catch her in a lie. They don't believe her claim that the museum's Lamp of Bharata is cursed, and they dare Aru to prove it. Just a quick light, Aru thinks. Then she can get herself out of this mess and never ever fib again.
But lighting the lamp has dire consequences. She unwittingly frees the Sleeper, an ancient demon whose duty it is to awaken the God of Destruction. Her classmates and beloved mother are frozen in time, and it's up to Aru to save them.
The only way to stop the demon is to find the reincarnations of the five legendary Pandava brothers, protagonists of the Hindu epic poem, the Mahabharata, and journey through the Kingdom of Death. But how is one girl in Spider-Man pajamas supposed to do all that?
Sweep by Jonathan Auxier
For nearly a century, Victorian London relied on "climbing boys"–orphans owned by chimney sweeps–to clean flues and protect homes from fire. The work was hard, thankless and brutally dangerous. Eleven-year-old Nan Sparrow is quite possibly the best climber who ever lived–and a girl. With her wits and will, she's managed to beat the deadly odds time and time again.
But when Nan gets stuck in a deadly chimney fire, she fears her time has come. Instead, she wakes to find herself in an abandoned attic. And she is not alone. Huddled in the corner is a mysterious creature–a golem–made from ash and coal. This is the creature that saved her from the fire.
Sweep is the story of a girl and her monster. Together, these two outcasts carve out a life together–saving one another in the process.
Sal and Gabi Break the Universe by Carlos Hernandez
When Sal Vidon meets Gabi Real for the first time, it isn't under the best of circumstances. Sal is in the principal's office for the third time in three days, and it's still the first week of school. Gabi, student council president and editor of the school paper, is there to support her friend Yasmany, who just picked a fight with Sal. She is determined to prove that somehow, Sal planted a raw chicken in Yasmany's locker, even though nobody saw him do it and the bloody poultry has since mysteriously disappeared.
A sassy entropy sweeper, a documentary about wedgies, a principal who wears a Venetian bauta mask, and heaping platefuls of Cuban food are just some of the delights that await in this mind-blowing novel gift-wrapped in love and laughter.
The Truth as Told by Mason Buttle by Leslie Connor
Mason Buttle is the biggest, sweatiest kid in his grade, and everyone knows he can barely read or write. Mason's learning disabilities are compounded by grief. Fifteen months ago, Mason's best friend, Benny Kilmartin, turned up dead in the Buttle family's orchard. An investigation drags on, and Mason, honest as the day is long, can't understand why Lieutenant Baird won't believe the story Mason has told about that day.
Both Mason and his new friend, tiny Calvin Chumsky, are relentlessly bullied by the other boys in their neighborhood, so they create an underground club space for themselves. When Calvin goes missing, Mason finds himself in trouble again. He's desperate to figure out what happened to Calvin, and eventually, Benny.
But will anyone believe him?
The Mystery of Black Hollow Lane by Julie Nobel
Emmy's dad disappeared years ago, and with her mother too busy to parent, she's shipped off to Wellsworth, a prestigious boarding school in England. But right before she leaves, a mysterious box arrives full of medallions and a note reading: These belonged to your father.
Just as she's settling into life at Wellsworth, Emmy begins to find the strange symbols from the medallions etched into the walls and stumbles upon the school's super-secret society, The Order of Black Hollow Lane. As Emmy and her friends delve deeper into the mysteries of The Order, she can't help but wonder—did this secret society have something to do with her dad's disappearance?
I loved these books and hope you do as well, feel free to add some comments if you read any of them!
Note: all blurbs were taken from Goodreads.