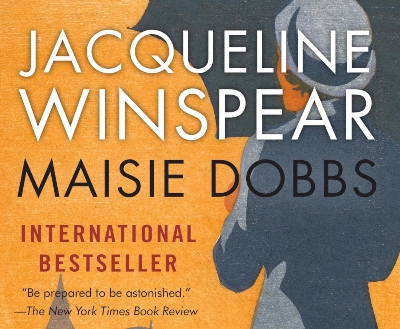 Downton Abbey sparked interest in early 20th century England in the lives and experiences of both the upper and lower classes and Jacqueline Winspear has written a mystery series along similar themes in the Maisie Dobbs mysteries. The series spans 15 books to date, from WWI to WWII and begins with the first book Maisie Dobbs (winner of 2003 Agatha Award, Edgar Award, and NYT Notable Book of the year). First seen as a lowly servant in a stately home, Maisie is found reading in the library by her employer, who enables Maisie to obtain an education. Maisie is also mentored by Dr. Maurice Blanche, a detective and psychologist who has worked with Scotland Yard. Maisie goes on to train as a nurse, serve in the Great War, and ultimately becomes both a psychologist and a private investigator.
In Maisie's cases, war and its aftermath often become shadowy characters hovering in the background. In Messenger of Truth, Maisie is called upon to investigate the death of an artist who is a veteran of the war. In Pardonable Lies Maisie searches for a missing pilot, thought to be killed in action. England declares war on Germany In This Grave Hour.  A Lesson in Secrets finds Maisie investigating Nazi activities in Cambridge.
It is interesting to note that Jacqueline Winspear has a personal connection to this era- her grandfather was wounded at the Battle of the Somme and her grandmother worked in a munitions factory. Winspear was told many stories about the war as a child from both grandparents, which she will share some of those stories in an upcoming memoir, "This Time Next Year We'll Be Laughing" due out in November 2020.
This is a great series for early 20th century history buffs, readers who like a strong female protagonist, and those who are interested in the changing roles of women as a result of the war.
Read more about the author and the series at https://jacquelinewinspear.com/books/maisie-dobbs
Check out the previous Crime Time Corner posts:
Crime Time Corner #1
Crime Time Corner #2