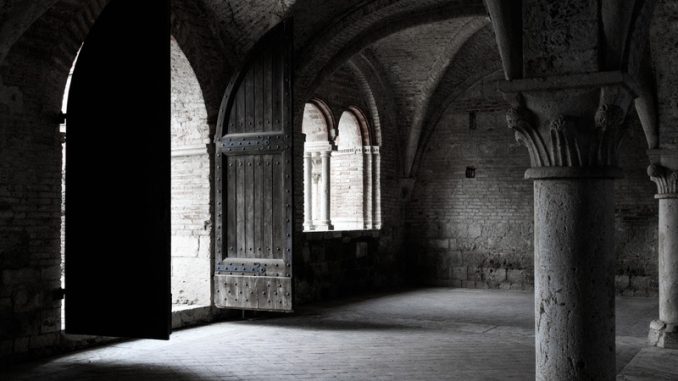 Mystery-Crime-Thriller novels often take us to other places, but they can also transport us to other times. There are many historical crime series that are set in the very distant past that are worth a read. Here are a few medieval mysteries to get you started…
Mid-7th century Ireland is the setting for the Sister Fidelma mysteries by Peter Tremayne. Fidelma of Cashel, as she prefers to be called, is an advocate (attorney) in the Irish legal system as well as a Celtic nun. An intelligent and independent woman, she solves crimes in Ireland and other parts of Western Europe with the help of her partner, Brother Eadulf. Tremayne, a historian, uses the character of Brother Eadulf (an outsider by virtue of being a Saxon) to comment on legal and cultural matters. Some of the recurring subjects in the series are aspects of Irish life, legal systems, and the role of women in Celtic society. This series has thirty titles to date for crime buffs who enjoy an interesting female sleuth.
The first half of the 12th century is the time of Brother Cadfael in the medieval detective series the Cadfael Chronicles. Ellis Peters (psuedonymn for Edith Pargeter) wrote twenty books featuring this Crusader turned Benedictine monk. Brother Cadfael, is an herbalist, a gardener, a pharmacist, and a scientist at the Abbey Church of St. Peter and St. Paul in Shrewsbury, on the border of England and Wales. Since becoming a monk in his forties, he is able to draw on his secular life experiences to help solve crimes. This is a protagonist who is not your average sleuth.
In late 14th century York, author Candace Robb, an American student of Medieval history, introduces us to the Owen Archer series. Owen is a former soldier who is now employed by the Archbishop of York as a spy who goes undercover to solve crimes in both York and other parts of England. The twelve books in this series give insight into the politics of the day and the kings, nobles, and archbishops who crave power. An added bonus- Owen crosses paths with notable figures of the period, such as Geoffrey Chaucer, appearing in two of the books.
Medieval Murders
A spellbinding series collaboration from six masters of the medieval mystery. In five interlinked chronological tales (and a prologue), a brilliant cast of medieval sleuths pursues the bloody mystery of a relic both powerful and cursed.
Crispin Guest mysteries by Jeri Westerson
Set just before the Wars of the Roses, this gritty and richly detailed mystery series stars former knight Crispin Guest, in disgrace for political maneuvers gone wrong. Desperate for money he is pulled into detective work, where he soon discovers a knack for investigations and a sharp mind, which will help him greatly if he can manage to lay low.
Mistress of the art of death series by Ariana Franklin (pseudonym for British author, Diana Norman)
Adelia Aguilar is a 12th century female medical examiner featuring Henry II, who has summoned her to investigate a series of gruesome murders.  As Adelia's investigation takes her behind the closed doors of the country's churches, the killer prepares to strike again.
See also Crime Time Corner #1 library blog post for more mystery series to explore.