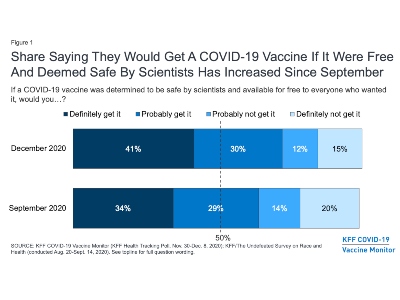 The KFF COVID-19 Vaccine Monitor is an ongoing research project tracking the public's attitudes and experiences with COVID-19 vaccinations.  Using a combination of surveys and focus groups, this project will track the dynamic nature of public opinion as vaccine development unfolds, including vaccine confidence and hesitancy, trusted messengers and messages, as well as the public's experiences with vaccination as distribution begins.
The Key Findings from December's update shows that there has been an increase in people who say they will "definitely" or "probably" get the vaccine(63% in Sep to 71% in Dec).  There was a decrease in the amount of people who say they will "definitely" or "probably" not get the vaccine(34% in Sep to 27% in Dec).
Still a quarter of people remain hesitant to support taking the Covid-19 vaccine despite it being free and determined safe by scientists.  The groups least likely to trust the vaccine are registered Republicans(42%), rural residents(35%), and African Americans(35%).  The reasons cited were concerns about side effects, distrust in the government, a wait-and-see approach, and politics.
A history of experimentation coupled with inequitable access to healthcare can explain the anomalous numbers seen from the minority community.  The overarching theme, however, is political affiliation.  The study shows that Democrats and Republicans have diametrically opposite feelings on the Covid-19 vaccine when considering the public good(D-70% R-26%) versus personal choice(D-27% R-71%).  These numbers are extremely similar to beliefs on mask wearing as well.
The likely reason for this, as the study shows, is a difference in trusted sources of information.  While the vast majority of people trust their personal health care provider, differences begin to emerge with regards to federal institutions(CDC, FDA, NIH), state government officials, President Trump, and President-Elect Biden.