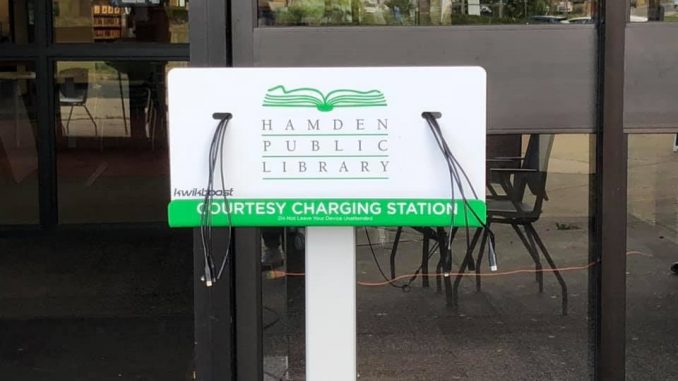 In order to protect the health and safety of staff and patrons alike, the Library will be suspending the outdoor computer lab indefinitely. The library will still offer the some technology support, including:
Wi-Fi
Wireless access is available in the parking lot at Miller Memorial Library at 2901 Dixwell Avenue. The network name is "Hamden Guest." No password is required.
Wireless Acccess Help Guide
Hot Spots
All three branches of the Hamden Public Library now have mobile hotspots available for lending. A WiFi hotspot is a device you can use to connect a mobile-enabled device, such as a laptop, smartphone or tablet, to the Internet. The hotspot is portable, so you can connect your device almost wherever you are, like at home, on the bus or in the park.
Learn more>
Charging Station
The Miller Library has set up our Kwikboost charging station outside the main entrance of the library at 2901 Dixwell Avenue. The station can charge up to 8 phones at a time at full speed and supports most major phones including iPhones, Android, Blackberry and Windows.
Charging ports include:
3 Apple Lightning for iPhones (5 & newer), iPads and iPods
3 Micro USB for non-Apple devices
2 USB type-C for newer non-Apple devices
This service is free for all library users.
Note that these stations are not monitored and you are responsible for the security of your device. Please do not leave it unattended. However, we do ask for users to maintain social distancing while waiting for their devices to charge.