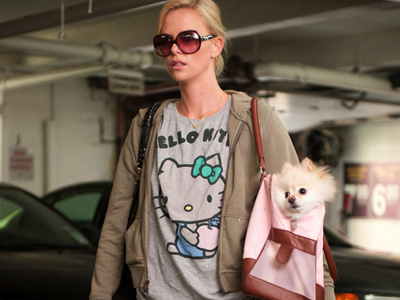 Recently, the New York Times posted a list of recommended movies currently available on Netflix. Here are their recommendations for the films on their list that are available at no charge to Hamden Public Library cardholders through our Hoopla and Kanopy services. All titles are linked to their Hoopla or Kanopy listings.
(If you don't have a current library card, click here to register online.)
Under the Skin (2014) This daringly bold fusion of sci-fi, body horror and unnerving erotica uses stylized visuals and an unsettling soundtrack to immerse us in "a mood of nightmarish alienation." What could have been mere exploitation is made haunting by the director Jonathan Glazer's execution and Scarlett Johansson's hard-edged performance. The ruthlessness of her quest to consume eager men, and the murkiness of her motives, make for some truly upsetting and horrifying interactions (particularly in terms of collateral damage). You're never quite sure where Glazer is going, but he fills his frames with such menace and dread that you simply can't look away.
Haywire (2012) The director Steven Soderbergh built his first full-on action flick as a vehicle for the mixed martial artist Gina Carano and constructs its set pieces with reverence for her skill and athleticism. It's a joy to watch her fight, and Soderbergh gives her plenty of opportunities to beat the daylights out of her male co-stars. Refreshingly, the sly, Bond-like script isn't just filler between those encounters; instead, the globe-trotting story and its layers of deceptions and double-crosses give the director the freedom to make one of his most stylish and entertaining pictures.
The Florida Project (2017) The director of "Tangerine," Sean Baker, returns with another warm and funny portrait of life on the fringes, melding a cast of nonactors and newcomers with an Oscar-nominated Willem Dafoe as the manager of a cheap Orlando motel populated by confused tourists and barely-managing families. The script (by Baker and Chris Bergoch) captures, with startling verisimilitude, the anxieties of living paycheck-to-paycheck (particularly when the next paycheck's very existence is uncertain) while also borrowing the devil-may-care playfulness of the children at the story's center. Our critic called it "risky and revelatory."
Jiro Dreams of Sushi (2012) "You must dedicate your life to mastering your skill," Jiro Ono explains. "That is the key to happiness." He has certainly mastered his skill; his 10-seat sushi-only Tokyo eatery is recognized the world over and is less a restaurant than a temple. But has that perfectionism made him (or the people around him) happy? David Gelb's mouthwatering 2012 documentary poses that question and further explores his philosophies of life and work, while also assembling a healthy dose of stunning "food porn," painstakingly capturing the careful preparation of Ono's culinary gifts and lovingly lingering on the results
The Squid and the Whale (2005) Two young men weather their Park Slope parents' nasty divorce in this ruthlessly intelligent and mercilessly evenhanded coming-of-age story from the writer and director Noah Baumbach, who drew upon his own teen memories and put himself, not altogether complimentarily, into the character of the 16-year-old Walt (a spot-on Jesse Eisenberg). Laura Linney is passive-aggressive perfection as his mother, while Jeff Daniels, as the father, masterfully captures a specific type of sneeringly dissatisfied Brooklyn intellectual. The film is "both sharply comical and piercingly sad," as A.O. Scott wrote, as Baumbach dissects this family's woes and drama with knowing precision.
The Bling Ring (2013) Sofia Coppola takes on conspicuous consumption, Millennial malaise, and upper-class entitlement in this darkly funny and stylishly thought-provoking true story (adapted from a Vanity Fair article by Nancy Joe Sales). Emma Watson leads a crew of young, attractive rich girls who spent years helping themselves to the homes (and spoils) of their famous neighbors, partying in Paris Hilton's "nightclub room" and casually lifting Lindsay Lohan's jewelry. Coppola refuses to condemn their crimes or apologize for them; it is, A.O. Scott wrote, "neither a cautionary tale of youth gone wrong nor a joke at the expense of kids these days."
Room (2015) Brie Larson won an Oscar for her powerful leading performance in this moving adaptation of the novel by Emma Donoghue, in which a woman held for years in captivity tries to escape from her kidnapper with the help of her young son. Lenny Abrahamson's intimate direction emphasizes the claustrophobia of their surroundings, but tantalizes with the promise and possibility of escape.
Young Adult (2011) We've seen countless stories of nasty, selfish people who go on a voyage of self-discovery and come out the other side as better, wiser souls. This acidic comedy-drama asks: What if that journey didn't take? Mavis Gary (Charlize Theron, in take-no-prisoners mode), a bitter young-adult author, returns to her hometown in the hope of reuniting with her high-school boyfriend, his picture-perfect married life be damned. A film that zigs when you're certain it will zag, "Young Adult" tells a satisfying story that is also a sly critique of the conventions of modern moviemaking. Our critic praised its "brilliant, brave and breathtakingly cynical heart."
Moonlight (2016) The 2017 Academy Award winner for best picture, this triptych about a young, gay African-American man's coming of age in Miami is a quietly revelatory piece of work, exploring and challenging modern perceptions of masculinity, family, power and love. Director Barry Jenkins (adapting a play by Tarell Alvin McCraney) creates a world so dense with detail and rich with humanity that every character gets a chance to shine; the themes and ideas are all above board, but conveyed with subtlety and understatement. Our critic described it as "a poem written in light, music and vivid human faces."
Mississippi Grind (2015) Before "Captain Marvel," the directors Anna Boden and Ryan Fleck teamed with Ben Mendelsohn (and another superhero movie star, Ryan Reynolds) for this laid back, on-the-road gambling picture, featuring Mendelsohn and Reynolds as a pair of longtime losers reaching for that one big score that will make everything right. The supporting cast is rich — Alfre Woodard, Sienna Miller and Analeigh Tipton all shine — and like the 1970s cinema it so clearly draws from, "Mississippi Grind" has what our critic called "a loose, behind-the-beat rhythm."
20th Century Women (2016) A young man's coming of age becomes a group project when his single mother (Annette Bening) reaches out to their housemates and friends for help, resulting in a slightly more complicated education than she envisioned. This touching and personal dramedy from the writer-director Mike Mills ("Beginners") deftly conveys the period without relying on caricature, and resists resorting to cheap villainy or soapboxing. Every character is brought to life with humor and sensitivity, and Bening's work is among her very best. Manohla Dargis deemed it "a funny, emotionally piercing story."