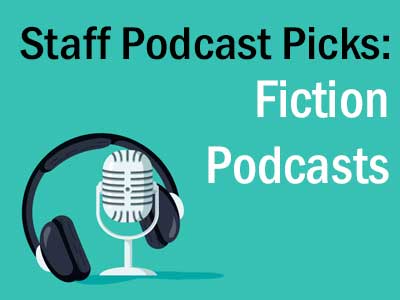 If you enjoy serialized science fiction, let us know what you think about Rebecca's fiction picks. Find the podcasts by following the links, or search for them using your favorite podcatcher.
The Bright Sessions
Follow Doctor Bright (not her real name) and her patients as they navigate first therapy sessions and later the world as people who experience the extraordinary every day, whether they want to or not.
Why I picked it: There's a mystery in this I love but can't talk about without spoiling it. It also reminds me of a favorite cancelled television show.
Start with: the first episode
The Bright Sessions is a completed science fiction audio drama created, written, and produced by Lauren Shippen.
Marvel's Wolverine
In Marvel's first adventure for your ears, follow Logan (Richard Armitage) through Alaska and Louisiana as he stays on the run from someone or something–and that's not even the most interesting thing to happen. Marvel's Wolverine has two seasons available in their entirety, each  10 episodes long.
Start with: The first chapter of either story. I suggest The Long Night (Season 1, takes place in Alaska), but can't explain why without spoiling. Like a lot of Marvel graphic novels, you don't need to read the first one to understand one that's later in the series, but there are quick references or story-telling conventions you understand more deeply if you start from the beginning.
Why I picked it: with apologies to Hugh Jackman, Richard Armitage is my favorite Wolverine. I'm also partial to The Long Night because it features the voice of Andrew Keenan-Bolger (Newsies) as a small-town deputy.  
There are some adult themes in both seasons of this mysterious audio drama, so listener discretion is advised
Both seasons of Marvel's Wolverine were written by Benjamin Percy and directed by Brendan Baker.
Marvels
Follow ambitious student reporter Marcia Hardesty (AnnaSophia Robb) and intrepid Bugle staffers Phil Sheldon (Seth Barish) and Ben Urich (Method Man) in the aftermath of the Fantastic Four's battle with Galactus as they try to get answers.
Why I picked it: as you may have guessed, I'm extremely partial to superhero stories. This one is historical fiction based on the graphic novel written by Kurt Busiek and Alex Ross, and currently being released weekly on free platforms.
Start with: Episode 1, "Galactus Cometh"
Marvels is produced by Marvel, directed by Paul Bae, and written by Lauren Shippen.
Passenger List
Why I picked it: I love everything about this post-disaster mystery thriller, from the first opening montage to the last moments of Episode 8. Kelly Marie Tran gives a powerful performance as main character Kaitlin Le, a woman searching for answers after her brother dies in a plane crash.
Start with: Season 1, Episode 01.Traffic
Full disclosure? This is the third recommendation Lauren Shippen is involved with. This one, she co-produces and co-directs. Passenger List is created, co-written and co-directed by John Scott Dryden. Passenger List is a production of Radiotopia from PRX.
arsPARADOXICA
A physicist from 20## accidentally experiences time travel during a lab experiment and gets stuck in 1943, but that's just the first minute of the first episode. The rest of the series is one part Astonishing Tales, one part homefront drama set in think tank towns in the US southwest. Whether the goal is to help the US win World War II, get home, or deal with what the butterfly effect ripples to the physicist every time something changes in the timeline, this series keeps one guessing about what will happen next and whether the physicist will get back to 20## without traveling through time the long way.
Why I picked it: it's another completed science fiction series from me, but finally one with no superheroes. If you like Cold War conspiracies, fish out of water stories, and time travel, this may be your next listen.
Start with: 01:Hypothesis
arsPARADOXICA was produced by the Whisper Forge, and was created by Daniel Manning and Mischa Stanton. A full list of credits can be found at the podcast website.