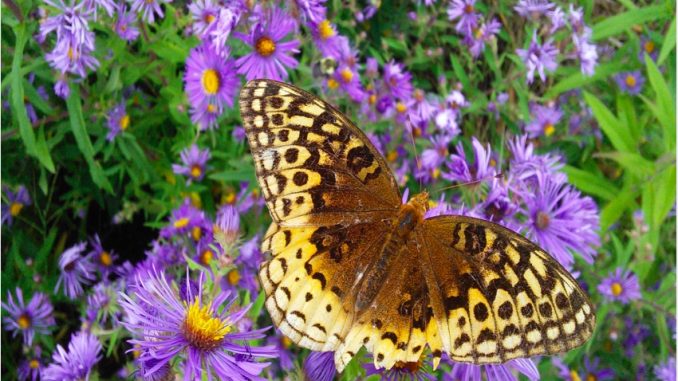 You don't have to wait til spring to plan and plant for nature's pollinators.  Some of our best native plants for pollinators can be started right now, outdoors, for little or no cost, and with next to no work other than sowing the seeds.
Nature's pollinators — like butterflies, bees and birds — need an entire growing season of nutrition and shelter to survive and thrive. The plants that best supply these necessities are the plants that are native to the region.
Many of our native plants need a period of cold in order for their seeds to sprout. This is accomplished in nature haphazardly, but accounts for all those "volunteers" that spring up, many times where they aren't wanted.
There is a way to help this process along, called winter sowing. It is easy to do, and we can supply the seeds, soil, and container to get you started. You have to start pretty soon — any time during the month of January should work.
Update: As of January 19, we have run out of soil and jugs. You may still request seeds through Friday, January 22.
How it works
Follow the step-by-step instructions for Milk Jug Wildflower Propagation. Thanks to Jim Sirch for these instructions. If you have these materials at home, feel free to use them. Otherwise, Hamden Public Library has prepared some kits with soil, sand, and seeds, and we can even throw in a milk jug (unless we run out). 
For another step-by-step method, also using a milk jug, look at Wintersown.org, a site dedicated to this process.
By winter sowing, you save money, you join a movement to help the pollinators, and you still have time to kick up your heels and wait for spring.
How to request a grab-and-go kit
Update: As of January 19, we have run out of soil and jugs. You may still request seeds through Friday, January 22.
Look at the list of seeds a we have available (or use some of your own favorites). These seeds were collected locally or were donated to the new Hamden Library Seed Library
Fill out this Questionnaire and Survey, which is required if you will be requesting a grab-and-go kit, but is available for all who wish to participate.
When your kit is ready, we will send you an email. You will have a week to pick it up during times the library is open for contactless pickup from inside the entrance of Miller Library, 2901 Dixwell Ave, Hamden.
Current pick-up times are M-F 10-1 & 2-5:45; S 9:30–12:30 & 1-2:45
Everything else
If you want to see a demo of the Milk Jug Method, Jim Sirch will be repeating his virtual workshop, Propagating Wildflowers from Seed, on Wednesday, January 27, 6:30-8:30 p.m. through Yale Peabody Museum. Information about that workshop will soon be found here.
If you want to find out more about pollinators, seed saving, and other ways to participate, or if you just want to explore some nifty sites, look here.
Oh, and save the date February 2, from 7-8 p.m., for a workshop on starting vegetable and other annual plants indoors.
Thanks to Cheshire Nursery, Hamden Land Conservation Trust, and Jim Sirch.
And thanks in advance to you, from the pollinators!