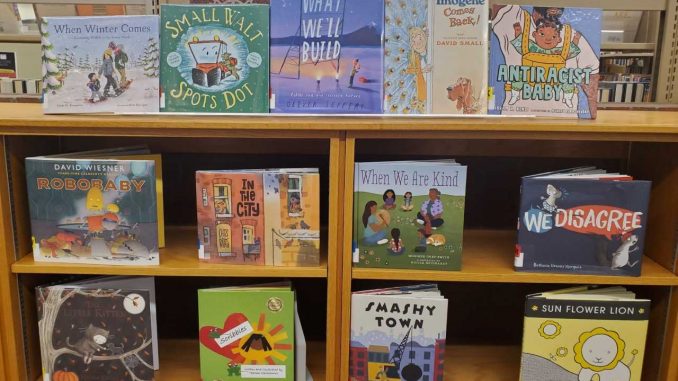 Looking for a new book to enjoy? Check out the new picture books we have coming into the library!
We Disagree
by Bethanie Deeney Murguia
Squirrel and Mouse aren't agreeing on anything. Can they find a way to accept each other's differences?
by Ibram X. Kendi
Antiracist Baby wants to share the 9 steps to evoking change and equity within our society.
by Monique Gray Smith
When you perform the smallest acts of kindness, they make everyone feel joy. Spread kindness!
When Winter Comes: Discovering Wildlife in Our Snowy Woods
by Aimee N. Bissonette
Follow along this trek through the woods. Discover the hibernating animals above and below the surface, in the winter time.
by Nicola Killen
Ollie and Pumpkin find a new friend, who is lost and alone. But when they get separated, can Ollie and Pumpkin find one another?
by Andrea Zimmerman
Written by the author of Trashy Town, Smashy Town has Mr. Gilly who is a crane operator. He has to knock down a building, so a new one can be built. Will he be able to knock the whole building down?
by David Small
In this reprisal of "Imogene's Antlers", Imogene has returned with a new assortment of peculiarities. Will her family survive her oddness this time?
by David Weisner
Everyone's trying to figure out how to build Robobaby, but no one will listen to Cathode. Will she get a chance to lend a hand?
by Chris Raschka
Two girls with a common interest, become friends when they meet at the park.
by Kevin Henkes
Sun sits in the sky. Flower sits upon a hill, looking up at sun. And Lion plays in Sun's light and naps next to Flower. They all look similar.
by Elizabeth Verdick
In this installment of Small Walt; Walt and Gus are out plowing during the snowfall. They find a lost dog and try to help rescue him!
What We'll Build: Plans for Our Together Future
by Oliver Jeffers
A father and daughter are building a home and along with it, stories and memories as well.