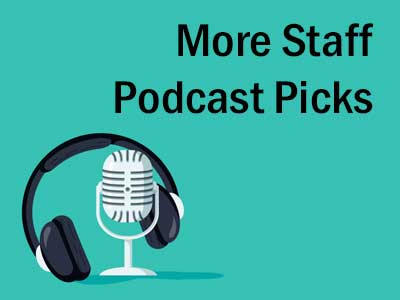 In Mike's podcast picks, funny people talk about smart things. Find his picks by following their links, or search for them in your favorite podcatcher.
Comedy Bang Bang: Scott Aukerman hosts this long-running improvised comedy podcast with a rotating cast of old and new comedians and other celebrities. The first guest will often be an actor or comedian appearing as themselves. Later, one or more additional guests are introduced, usually in-character. Some of the characters are long-running favorites, others are new. You never know what you're going to get and that's part of the fun. The tone of the show is a kind of refined irony: think David Letterman mixed with modern improv comedy. It might just seem weird at first, but stick with it and you'll be rewarded with hours upon hours of pure comedic joy.
Threedom: A newer podcast started by Scott Aukerman, along with frequent Comedy Bang Bang guests Paul F. Tompkins and Lauren Lapkus. The style is more casual than Comedy Bang Bang. It's basically three friends talking about whatever, followed by a brief game at the end. This has been my go-to podcast for biking lately because I enjoy the easy rapport they have with one another.
The Ezra Klein Show: The titular host is a founder of Vox Media. He's a brainy guy, the son of a college professor. Definitely a lefty, liberal type of person. However, the main bent of the show isn't politics. Or at least, not exclusively. Other topics include wellness, meditation, technology and what it does to our brains, the environment, among other things. He also has guests from across the political spectrum, including quite a few with whom he disagrees about a lot. The important thing to note here is the tone Klein strikes when interviewing his guests: it's a rare combination of generosity and thoughtfulness but with the willingness to challenge statements in order to clarify and allow listeners to hear all sides of an issue. I can't really think of an interviewer who is fairer. And his voice is rather relaxing to listen to.
Reset: Another podcast in the Vox family, this one is hosted by Arielle Duhaime-Ross. It's all about technology but not in a techie way. Reset is rooted in how tech, particularly big tech, affects our daily lives. Their tagline is "Every story is a tech story." A recent episode interviewed teens about how they were sharing Instagram accounts and passwords in an effort to confuse the social media platform's algorithm and maintain their privacy.
Mental Illness Happy Hour: Long-running podcast hosted by comedian Paul Gilmartin. Personally helped me feel less alone when I was suffering from depression and panic attacks. Full disclosure: When I wrote about my experience going off meds (not by choice) after being laid off in the wake of the 2008 economic recession, Paul emailed me to ask if he could re-publish it on his site as a guest blog post. I said yes, of course.
Behind the Bastards: Hosted by writer Robert Evans, formerly of Cracked.com. In-depth examination of some of the worst humans in history, delivered with a uniquely deadpan, heavily ironic style. Many episodes are multi-part. There are also topical episodes: for example, March 24th's is a special one devoted to "The Worst Grifters of the Coronavirus Pandemic." Each episode also includes footnotes with sources used.
The Dollop: Hosted by comedians Dave Anthony and Gareth Reynolds, the premise of the show is that Dave recounts to Gareth a story from American history. Gareth usually has no prior knowledge of the episode's topic whatsoever, allowing him to react spontaneously as more information is revealed. Often this is hilarious. The stories themselves typically range from the bizarre to the horrific. If you want to learn about the history of our country but you need laughter to stay sane while learning about some of the less-than-great things that have happened, the Dollop might be your jam. Each episode includes a list of sources.
WTF With Marc Maron: Probably the most well-known podcast on my list. Marc is a comedian with a unique ability to disarm interviewees and get them to open up about themselves. As a comedian he has described himself as "not for everybody," but as an interviewer he is second-to-none. He has amassed a huge backlog of really great interviews with everyone from Robin Williams to Keith Richards to Barack Obama. Newer episodes are free, older episodes are behind a paywall (Stitcher Premium).
Advanced Sagebrush & Shootouts: The only fiction podcast that makes the list for me. Three friends created this hilarious tribute/parody of 80s action crime dramas (think Miami Vice, CHiPs, Knight Rider, etc.). At its heart, it's an actual-play podcast based on the FATE role-playing system. The main characters, Trevor Steel and Kip Simpkins, are feckless but improbably successful police officers working in a special task force within the (fictional) Dallas-Fort Worth Police Department. Heavily serialized, you should start this one from the first episode or you'll have no idea what's going on.