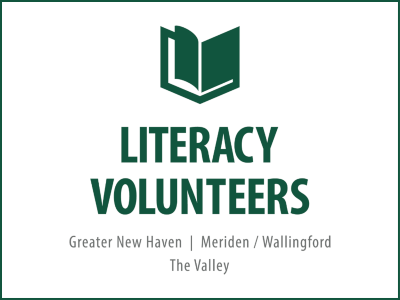 Literacy Volunteers of Greater New Haven is always looking for people over the age of 18 who would like to volunteer. They welcome men and women of all backgrounds who have a good grasp of the English language. You can make a huge difference in another person's life.
To become a Literacy Volunteers tutor, you do not need to have teaching experience. You do not have to be able to speak another language. Literacy Volunteers of Greater New Haven staff will provide you with all the training and support you need. The commitment is only one or two sessions per week, each session lasting 1.5 – 2.0 hours each.
If you become a tutor, they will provide you with training and match you with one or more students. You may teach adult students English conversation skills, reading or math. You might help them prepare for the citizenship exam, apply for jobs and meet other specific goals. What you teach depends on your areas of interest, the needs or goals of the individual student and practical applications of the English language.
How To Become a Literacy Volunteers Tutor
Go to the website, lvagnh.org and read about tutoring with Literacy Volunteers. Submit your tutor application.
Choose whether you would like to tutor in Basic Literacy or in English for Speakers of Other Language (ESOL).
Attend a New Tutor orientation.
Attend 3 tutor training sessions.
Complete 2 observations of current classes.
Begin tutoring, with a co-tutor or on your own.
Attend Literacy Volunteers of Greater New Haven workshops throughout the year.
New tutors are always welcome. For ESOL classes, a tutor does NOT need to know another language, but those who know Spanish are especially needed.
 Next tutor training begins September 20.
Literacy Volunteers of Greater New Haven
5 Science Park, New Haven, CT  06511
203-776-5899
www.lvagnh.org