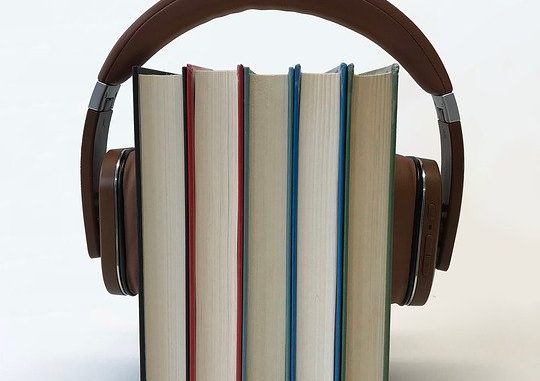 With so many portable device options, you can literally take them into the sun, while gardening, watering, sunbathing, or hiking. They can also make drive time and chores seem to go by faster, and can be a welcome comfort while sheltering in place. If you have had the wonderful opportunity of being read to as a child, then allowing yourself to close your eyes, settle in, and lose yourself in a story can bring you back into that magical space.
Due significantly to the popularity of streaming services and the proliferation of devices that can handle audiobooks, the marketplace of audiobook titles has grown an average of 18.5% from 2014 to 2019, increasing to an over 25% growth spurt in 2018 and beyond, to just under $1 billion. In recent years, up to 50,000 titles have been produced per year.
At Hamden Public Library, we have noticed that many of our patrons are discovering streaming services for the first time. Once we return to physical borrowing, you will be able to choose two other audiobook formats as well: CDs and Playaways. A Playaway is a small media player that is pre-loaded with a single audiobook. All it requires to operate is a AAA battery and a set of ear buds, so it is terrific for traveling. CDs have been the go-to audiobook format for commuters and have a wide following.
Listening to an audiobook can be considered more passive than the act of reading, as the narrator acts as an intermediary and interpreter, using inflection, voices, and emphasis. Some folks are put off by this; others find it entertaining. Also, with multi-tasking more common, the convenience of  someone else narrating a book allows us to "read" and do at the same time! For those with learning differences, listening to an audiobook rather than reading the words on a page can be a far superior experience.
For many listeners, the narrator is the key to enjoying the book. Narrators can add value to, or detract from, an author's words. Who you like as a narrator can be very subjective, but there are qualities that can make or break a narration: their ability to differentiate characters (sometimes achieved by multiple narrators), clarity and pace of speech, pitch of voice and perceived gender of the narrator, amount of acting versus a "straight" read, relevance and authenticity of the narrator' accent, the addition of music either at the intro or (though less common) throughout the book.
So who are the best narrators?
I will hedge this answer with two thoughts:
It is very subjective (see above)
The lists of bests may be skewed by who is doing the selecting.
Audible, for example, lists the Narrator Hall of Fame, "based on several criteria: a wide, varied, and vibrant body of work; exceptional listener reviews; and a commitment to the craft and dedication to spreading awareness of audio performance." As a paid subscription service, Audible only includes its own narrators in its Hall of Fame.
More broadly, each year, The Audio Publishers Association selects "Audies" winners in 24 categories including Audiobook of the Year. The Narration Talent category breaks down to:
Best Female Narrator
Best Male Narrator
Best Multi-Voiced Performance (multiple readers with little to no interaction)
Best Narration by the Author or Authors
Trending in the industry are the use of multiple readers, authors reading their own book (Neil Gaiman is an excellent example), and audio-only titles (no print version). Even A-list actors such as Tom Hanks are moving toward this medium. Here is a five-minute excerpt of him reading Ann Patchett's The Dutch House:
https://www.youtube.com/watch?v=bzNpof9vlFk
Tips & Tricks on listening to an audiobook
If you don't like the pace of the narration, most readers allow you to speed up and slow down the narration, without distorting the voice. You can slow down the complex or steamy parts and speed up if you just have to get to the end of the story!
You can download a title to your smartphone from Hoopla, OverDrive, or RBDigital, and listen to it through the audio system in your recent-model car via Bluetooth. Note: both the car and the smartphone have to be Bluetooth-compatible.
If you are not satisfied with a book you are listening to, you may wish to try it in print before writing it off. It may not be the writing but the performance that is not to your liking.
Staff comments about audiobook narrators:
"My favorites are Jim Dale and, for the moment, Ari Fliakos."
"A good narrator makes such a difference."
"[It is ] very subjective, what you like and what you do not like."
"This is so true for me. I couldn't listen to "The Library" or "Lolita" because of the narrator. You already mentioned my favorite, Jim Dale."
"Scott Brick is great, but doesn't have a lot. Lorelei King, Helen Duff (British), Will Patton and Frank Muller.  I'm not a fan of George Guidall, especially recently, he's definitely slipping."
"The guy I adored is deceased,but his voice lives on in Louise Penny's novels/audio books except for the last like 3 novels. At any rate, his name is Ralph Cosham. When he died we were all devastated including Louise herself as his voice embodied her main character Armand Gamache."
"I have never listened to an audiobook before, never wanted to, but this piqued my interest. Listening to the clip of Scott Brick reading did too. I'm going to try one. Deciding which one will be difficult."
"I know for certain the narrator makes or breaks a book for me. If it's disagreeable to my ears, it's got to go. Unfortunately it can put me off the book entirely."
Who are your most and least favorite narrators? Please mention them in the Comments section below.
Links
Appendix
Audio Publishers Association 2020 "Audie" Awards, Narration Talent Category
Best female narrator (HarperAudio):
Marin Ireland, Nothing To See Here by Kevin Wilson
Finalists:
Cassandra Morris, All the Lost Things by Michelle Sacks
Hillary Huber, The Boy by Tami Hoag, narrated by Hillary Huber
Rachel Atkins, Prime Suspect by Lynda La Plante
January LaVoy, The Ten Thousand Doors of January by Alix E. Harrow
Best male narrator (Macmillan Audio)
Robert Bathurst, Kingdom of the Blind by Louise Penny
Finalists:
Tom Hanks, The Dutch House by Ann Patchett
Robert Petkoff, Everything Is Illuminated by Jonathon Safran Foer
JD Jackson, The Nickel Boys by Colson Whitehead
Peter Capaldi, Watership Down by Richard Adams
Best narration by the author or authors (HarperAudio)
Elizabeth Acevedo, With the Fire on High
Finalists:
Michelle Obama, Becoming
Demi Moore, Inside Out
Sophie Dahl, Madame Badobedah
Pete Buttigieg, Shortest Way Home: One Mayor's Challenge and a Model for America's Future
Susan Rice, Tough Love
Best multi-voiced performance (Simon & Schuster Audio)
The Only Plane in the Sky: An Oral History of 9/11 by Garrett M. Graff
Narrated by A Full 45-Person Cast with Holter Graham
Finalists:
200 Women by Geoff Blackwell, Ruth Hobday, Sharon Gelman, Marianne Lassandro, and Kieran Scott (narrated by a full cast)
Daisy Jones & The Six by Taylor Jenkins Reid (narrated by Jennifer Beals, Benjamin Bratt, Judy Greer, Pablo Schreiber, and a full cast)
Dooku: Jedi Lost (Star Wars) by Cavan Scott (narrated by Orlagh Cassidy, Euan Morton, Marc Thompson, Pete Bradbury, Jonathan Davis, Neil Hellegers, Sean Kenin, January LaVoy, Saskia Maarleveld, Carol Monda, Robert Petkoff, and Rebecca Soler)
Hey, Kiddo by Jarrett J. Krosoczka (narrated by Jarrett J. Krosoczka, Jeanne Birdsall, Richard Ferrone, Jenna Lamia, and a full cast)
Audible Notables list
I have linked the first few narrators to a sample title in our collection. To search for the rest, just use a keyword search, including "narrator" and the narrator's name, in the Hamden Public Library catalog (hm.catalog.lioninc.org).
Vikas Adam
Andi Arndt
Scott Brick
Cassandra Campbell
Alan Cumming
Jim Dale
Luke Daniels
Jonathan Davis
Dion Graham
George Guidall
Edward Herrmann
Katherine Kellgren
Lorelei King
Robin Miles
Frank Muller
Prentice Onayemi
Davina Porter
Barbara Rosenblat
Bahni Turpin
Simon Vance
Rick Lewis