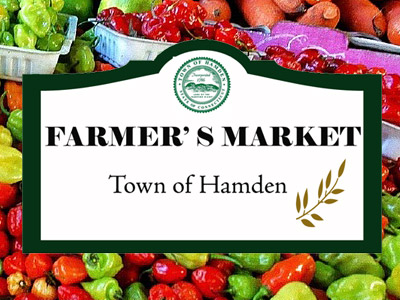 The Hamden Farmers Market takes place on Thursdays from 4:00pm – 7:30pm, in Hamden's Town Center Park. The Market is located next to Josh's Jungle Playground Park by the lower parking lot of the Miller Cultural Complex at 2901 Dixwell Avenue. Parking is free and plentiful.
The Town has a diverse array of vendors and activities lined up for the Market, with more than 20 vendors, community groups, and organizations joining throughout the season. The Market will have a variety of food trucks and food vendors with items such as locally grown produce, prepared foods, and baked goods.  There will also be plenty of stations that provide extras such as free children's activities, handmade products, as well as local crafts. Each Market will also feature the special musical talent of a local band or performance artist. Hamden Youth Services will host an awesome array of arts and crafts projects for kids
The Library will have a both at the market this year, so stop by and say hello! We will be happy to tell you all about the great things that are going on at the Library this summer.