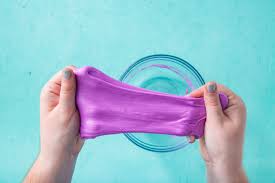 Our 2020 Summer Reading craft programs will be via grab & go craft kits.
When you register for the craft, a bag with your name on it will be left on the curbside pick up table. You can pick up your grab & go kit Monday – Wednesday, between 10 a.m. and 7 p.m.
(To assure that all families get a chance to participate in our program, there will be a limit of 2 kits per family.)
This week, make your own slime!

This Wednesday, July 29th at 11:00 a.m., join us via zoom to make Oozing Oobleck with Miss Lisa from the Regional Water Authority.  Click here to sign up! Supplies will be available for pick up at the library on Monday and Tuesday before the program. 
If you don't get a chance to participate in this program, try this easy 2 ingredient slime recipe!

Materials:
Med. size bowl
Hair conditioner (Colorless)
Cornstarch
Food coloring (optional if you'd like to add color)
Instructions:
     1.  Add equal parts cornstarch and conditioner to bowl and start to mix (about 1/2 cup of each).

              If mixture is too dry, add more conditioner. If it is too wet, add more cornstarch
     2.  Continue to mix until dough is soft and stretchy.
              This may take some time, so continue to mix until mixture is consistently one texture.
     3.  Now you can add a few drops of food coloring to the dough and mix it until color takes.
Here are some recommended books to read for this project!
Bartholomew and the Oobleck by Dr. Seuss
How To Make Slime by Lori Shores
Karina Garcia's DIY Slime by Wendy Wax
Fairy Science by Ashley Spires
Science Verse by Jon Scieszka
Upcoming Summer Reading programs (make sure you register for each program):
Wednesday 7/29: Oozing Oobleck with the Regional Water Authority
Friday 7/31: Kidding Around Yoga with Sherri
Monday 8/3- Wednesday 8/5: Beaded Bracelets
Thursday 8/6: Music and Movement with Lynn Lewis