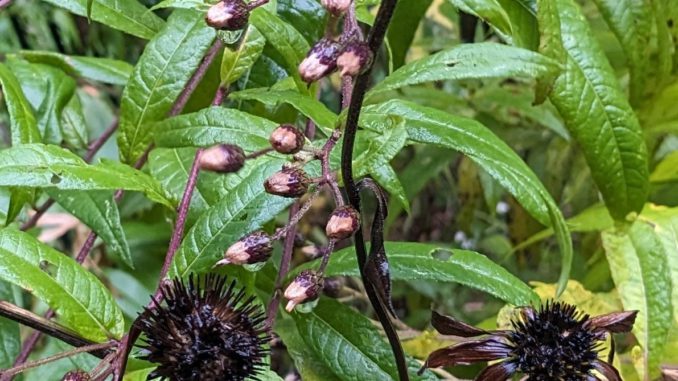 Greetings, on a wet, clammy day — what else!
By now your garden, like mine, may look a bit disheveled, for a multitude of reasons — weird weather, neglect, etc. But take a look around. There may still be bounty to be had, in the seed heads that may have formed in your garden.
Come let Jim Sirch encourage you *not* to clean up your fall garden before taking advantage of the many opportunities to save those seeds for planting (and for winter wildlife).
Date: Saturday, October 21, 2023
Time: 10:00 – 11:15 a.m.
Location: Miller Library Friends Room
This will be a short program, but packed full of info.
To register, please click on this link.
Now, on to the Garlic part of this update.
We have arranged to obtain a limited amount of German White "seed" garlic from Vincent Kay, a local garlic grower and beekeeper. This variety of hardneck garlic is great for this climate, and produces a double crop: scapes and cloves. We should have enough to distribute a couple of nice, full heads to those of you who are interested in trying out this very satisfying crop. This amount should be enough to create a four-foot row.
The catch? Read on…
You must prepare a nice spot for your garlic beforehand, and fertilize it well (Vincent Kay uses bloodmeal). Reserve some light-colored mulch (straw, leaves, etc.) for your row of garlic, to insulate it through the winter months). Shortly before planting, separate your garlic into cloves, trying to keep the outer skin in place. Plant your garlic pointy side up, two inches deep in your prepared bed. Allow about 6″ between cloves. Cover with about 4″ of mulch. Wait until early spring, then remove the mulch, fertilize, and watch your garlic grow. Remove the scapes after they form, then wait until the leaves start to die before pulling your garlic out of the ground. Cure your garlic before storing. You should have enough to use for cooking and for planting another crop next year. For details and a full explanation of the process, click here.
We will distribute garlic on November 9, 13, and 14. You will be able to sign up for garlic at Jim's October 21 program and online from October 21 through November 1.
Timing is everything. Garlic should be planted in mid-November in our climate. This is about four weeks before a deep freeze. Planting garlic earlier causes it to sprout prematurely and lose some energy that is better spent in the spring.
Thank you to …
In addition to collecting native seeds, the seed library is preparing for next spring's planting season, and will have seeds for many of the varieties of plants you love to grow — and many more unusual varieties as well.
We have received generous gifts of seeds from Cheshire Nursery and Hart Seed, and will be able to significantly round out our offerings with funds generously donated by The Friends of Hamden Library. The Friends are also supporting our programming. We are very grateful for their ongoing support!
Other support for the Seed Library has come from the UConn Master Gardener program, The Hamden Land Trust, The New Haven Green Fund, and local gardeners who have shared their seed bounty with us.