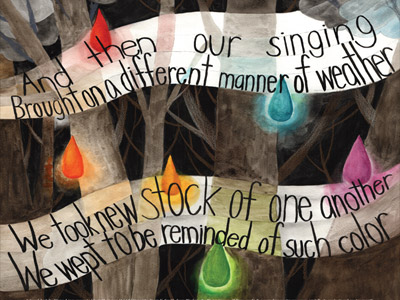 National Poetry Month is a month-long, national celebration of poetry established by the Academy of American Poets. The concept is to widen the attention of individuals and the media—to the art of poetry, to living poets, to our complex poetic heritage, and to poetry books and journals of wide aesthetic range and concern. We hope to increase the visibility and availability of poetry in popular culture while acknowledging and celebrating poetry's ability to sustain itself in the many places where it is practiced and appreciated.
There are many ways you can participate in National Poetry Month, including:
Receive a Poem a Day in your inbox. Beginning April 1, Poets.org emails a new poem to your inbox each day to celebrate National Poetry Month. The poems have been selected from new books published in the spring.
April 18th is Poem in Your Pocket Day. Simply select a poem you love during National Poetry Month, then carry it with you to share with co-workers, family, and friends.
You can visit Poets.org for more information and ideas about National Poetry Month.
---
In a time of distance
The unexpected always happens in the way
The unexpected has always occurred:
While we are doing something else,
While we are thinking of altogether
Different things – matters that events
Then show to be every bit as unimportant
As our human concerns so often are;
And then, with the unexpected upon us,
We look at one another with a sort of surprise;
How could things possibly turn out this way
When we are so competent, so pleased
With the elaborate systems we've created –
Networks and satellites, intelligent machines,
Pills for every eventuality – except this one?
And so we turn again to face one another
And discover those things
We had almost forgotten,
But that, mercifully, are still there:
Love and friendship, not just for those
To whom we are closest, but also for those
Whom we do not know and of whom
Perhaps we have in the past been frightened;
The words brother and sister, powerful still,
Are brought out, dusted down,
Found to be still capable of expressing
What we feel for others, that precise concern;
Joined together in adversity
We discover things we had put aside:
Old board games with obscure rules,
Books we had been meaning to read,
Letters we had intended to write,
Things we had thought we might say
But for which we never found the time;
And from these discoveries of self, of time,
There comes a new realisation
That we have been in too much of hurry,
That we have misused our fragile world,
That we have forgotten the claims of others
Who have been left behind;
We find that out in our seclusion,
In our silence; we commit ourselves afresh,
We look for a few bars of song
That we used to sing together,
A long time ago; we give what we can,
We wait, knowing that when this is over
A lot of us – not all perhaps – but most,
Will be slightly different people,
And our world, though diminished,
Will be much bigger, its beauty revealed afresh.
-Alexander McCall Smith